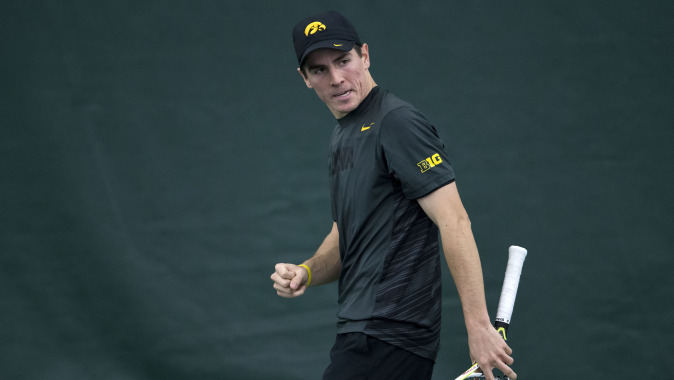 Feb. 23, 2015
By MATT WEITZEL
IOWA CITY, Iowa — The emergence of junior Dominic Patrick has been one of the many bright spots with the University of Iowa men's tennis team.
Patrick played most of the 2014 season as the Hawkeyes' No. 5 singles position. This year, he has been slotted at the No. 2 position, helping Iowa to wins in five-straight and seven of its first eight duals. He is 5-0 individually in the early stages of the 2015 season.
Image removed by sender."Patrick is a guy who has surprised us, being unbeaten at the No. 2 spot," said UI head coach Ross Wilson. "We hope he can keep improving and winning at that spot."
Patrick, a native of Gilbert, Arizona, was a little shocked when he and Wilson discussed his surge in the lineup, but appreciated the confidence the first-year head coach has shown.
"(Coach Wilson) has been telling me since last summer that I'm going to get my shot up in the lineup," said Patrick. "Ever since he told me that, we've been preparing for it. Now it's here and I'm rolling with it.
"It's a different ball you see from five to two. At two, you have to play with the mentality of 'nothing to lose,' and that's how I've been playing."
Patrick credits his prep coach, Nick Blackwood, former UI head coach Steve Houghton, and Wilson for his steady growth both as a player and individual.
"(Blackwood) was a good role model for me," said Patrick. "He got me mentality prepared to come to college. Houghton was a great coach and role model and taught me so much, and now coach Wilson has brought me to a new level this year. He brings out the best in you."
Patrick, who is also 5-2 in doubles competition, says his biggest improvement from last year to this season has been his preparation and concentration.
"I've focused on being able to recognize what my weapons are and what I should stay away from," said Patrick. "When I play disciplined, I've had good results."
Being one of only two upperclassmen in the lineup, Patrick says he has embraced being thrust into a leadership role.
"We had a large squad my first two years that I looked up to," Patrick said. "Losing them to graduation and bringing in all these freshmen and having to become a leader that much faster, has changed me.
"It has been a long ride, molding the freshmen since the first day they arrived on campus, but they're doing well now."
Patrick says the team is having a blast, but believes there is still room for improvement.
"I don't think we have played to the fullest of our potential," said Patrick. "We want to continue to work hard in practice and compete as hard as we can in our matches moving forward."
Iowa seeks its sixth straight victory when it hosts Drake on Saturday at 6 p.m. (CT) at the Hawkeye Tennis and Recreation Center. Admission is free to the public.