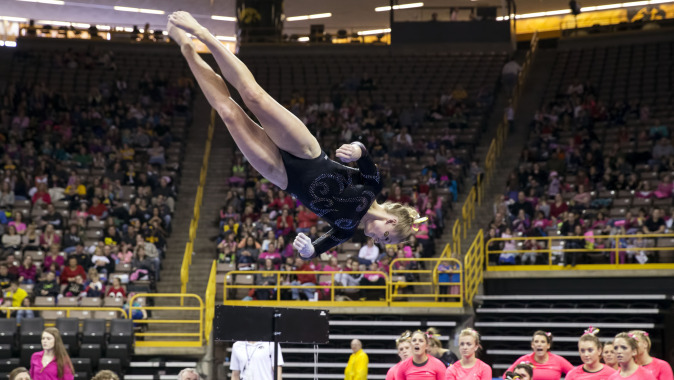 Feb. 27, 2015
WGYM Notes

THIS WEEK:
The University of Iowa women's gymnastics team will travel to Minneapolis, Minnesota, to take on No. 14 Minnesota and New Hampshire in a tri-meet on Saturday, Feb. 28. The meet is scheduled to begin at 6:30 p.m. (CT) inside the Sports Pavilion.
BREAKING INTO THE TOP 25:
Iowa is currently ranked No. 24 nationally, marking the program's first Top 25 ranking since 2011. There are 80 women's gymnastics teams in the nation. The GymHawks also rank 15th as a team on the uneven bars (49.015 average score) and 21st on floor (48.960).
SCOUTING THE COMPETITION:
No. 14 Minnesota competed twice last weekend, with one win on the road and the other at home. The Golden Gophers beat Iowa State in Ames, Iowa, on Feb. 20, 196.350 to 194.100. Minnesota claimed their second victory of the weekend on Feb. 22 after posting a team score of 195.325 to defeat Winona State (186.050), Hamline (184.400) and Gustavus Adolphus (180.200). The Golden Gophers are currently ranked 12th nationally as a team on floor (49.135 average score), 13th on beam (48.965), 19th nationally as a team on vault (49.125), and 20th on bars (48.915).
New Hampshire (194.100) took fourth in a quad meet against Maryland (195.350), West Virginia (195.200), and Rutgers University (194.825), on Feb. 22 at West Virginia University's WVU Coli- seum. The loss brings the Wildcats to 11-4 on the season. The Wildcats are currently ranked 18th on beam (48.895 average score).
LAST TIME OUT:
The GymHawks posted a 195.850 to place second in an away tri-meet against No. 7 Denver and BYU on Feb. 21. Five GymHawks finished in the top five of individual events and two freshman GymHawks recorded season best scores. Sophomore Angel Metcalf tallied a 9.825 on beam and finished first overall in the event. Sophomore Mollie Drenth and senior Johanny Sotillo both post- ed a 9.800 and tied for fourth place in the event. On floor, senior Sydney Hoerr let the GymHawks with a 9.875, taking fifth overall and adding to the team score of 49.000. Freshman Ashley Fischer made her mark on vault, posting a season best score of 9.825, rounding out Iowa's total score of 49.025. The GymHawks ended the night on bars; where Drenth lead the charge with a score of 9.825 and taking second place overall in the event. Freshman Melissa Zurawski tallied a season best score of 9.800 and good enough to tie for fourth place overall with teammate Sotillo.
ROSTER BREAKDOWN:
The majority of GymHawks are underclassmen, with six freshmen, six sophomores, three juniors, and three seniors on the roster.
HAWKEYE NEWCOMERS:
This season, the Hawkeyes welcome six newcomers — Ashley Fischer, Lanie Snyder, Melissa Zurawski, Nikki Youd, Jori Robertson, and Megan Ruzicka — to the 2015 squad. Iowa also welcomes new additions to the coaching staff. Assistant coach Jennifer Green comes to Iowa after serving as an assistant coach at the University of Missouri for two years and Caleb Phillips returns to Iowa, where he previously coached from 2008-13.
METCALF, HOERR NAMED TO BIG TEN WATCH LIST:
Angel Metcalf and Sydney Hoerr have been named to the 2015 Big Ten Gymnasts to Watch List. Metcalf, one of six sophomores to make the list, hails from Swansboro, North Carolina. She captured her third all-around title last season against No. 20 Ohio State on Feb. 14 in Iowa's annual Pink Meet. Metcalf improved her all-around score to 39.325. She previously posted a season best at Georgia (39.100). Metcalf received a bid to NCAA Regionals with five of her teammates to compete in the all-around. She competed in 12 meets last season, nine of which she competed for the all-around title. Her season-best all-around score of 39.325 has been tallied twice; the most recent at the 2014 Big Ten Championships.
Hoerr, who was also featured on the 2014 Big Ten Watch List, is a senior from Bloomington, Illinois. The 2014 second team All-Big Ten honoree registered Iowa's individual season bests on the uneven bars (9.900 at Iowa State, March 7) and floor exercise (9.875 at Georgia, Jan. 20) last season. She competed in all 12 meets in addition to NCAA Regionals, while competing in the all-around in seven competitions. Hoerr led Iowa on the bars with a regional qualifying score of 9.855, tying for 54th nationally. Hoerr is also an Academic All-Big Ten honoree.
IOWA SELECTED TO HOST 2016 NCAA REGIONAL:
The University of Iowa and Carver-Hawkeye Arena have been selected to host a 2016 NCAA Regional (April 2, 2016) in women's gymnastics. Iowa last hosted an NCAA Regional in 2009.
HEAD COACH Larissa Libby:
Larissa Libby enters her 11th year as head coach, and 15th year overall, at the University of Iowa in 2014-15. In 2014, six Hawkeyes were selected for NCAA Regional com- petition. Alie Glover, Angel Metcalf, and Sydney Hoerr were selected as all-around competitors, while Jordyn Doherty competed on vault and Mollie Drenth competed on floor. Maryah Huntley was selected as the alternate behind Drenth on floor. Libby coached Hoerr to second team All-Big Ten honors, while Hoerr, Caitlin Tanzer and Glover earned Academic All-Big Ten honors. Libby led Iowa to its sixth-consecutive NCAA postseason appearance, the seventh in her tenure, in 2013.
PRACTICE FACILITY RENOVATION:
The women's gymnastics team is amidst a practice facility renovation. The gym — located in the UI Field House — is scheduled to be completed in April 2015. The renovation will include new equipment, more space to train, and enhanced safety and resources for Hawkeye student-athletes.
SEASON TICKETS:
Fans interested in attending 2015 home meets at Carver-Hawkeye Arena should visit hawkeyesports.com or contact the UI Athletics Ticket Office at 1-800 IA-HAWKS. Fans purchasing season tickets ($15) will gain admission to four home competitions at Carver-Hawkeye Arena, including three against league opponents (Michigan State/Ball State, Maryland, Illinois) and the home finale against in-state rival Iowa State. All youth, 18 and younger, and UI students are admitted free to all home events.
FOLLOW THE HAWKEYES:
A member of the Iowa gymnastics staff will offer interactive Twitter content live at every event this season via @iowagymnastics. This feature gives Hawkeye fans the opportunity to stay up to date on the latest news and scores during every meet.
Web Address: hawkeyesports.com (check the schedule page for live stats and live streams)
Facebook: facebook.com/iowagymnastics
Twitter: twitter.com/iowagymnastics
YouTube: youtube.com/iowagymnastics
UP NEXT:
Iowa returns to Carver-Hawkeye Arena for its final home contest of the season against Iowa Corn Cy-Hawk Series rival Iowa State on Friday, March 6. The meet is scheduled to begin at 7 p.m. (CT).