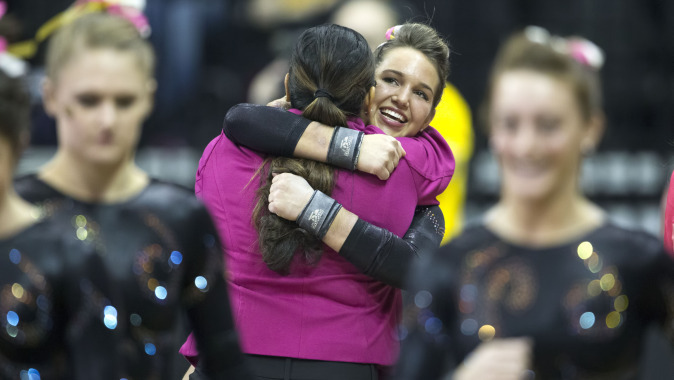 Feb. 28, 2015
Full Results

IOWA CITY, Iowa — Despite the stress from last minute schedule changes due to inclement weather, the University of Iowa women's gymnastics team excelled, winning its tri-meet against No. 14 Minnesota and New Hampshire. The GymHawks posted a 195.000 team score to edge out the Golden Gophers (194.725) and the Wildcats (194.700).
"It was tough. The one thing about having been in three different gyms this year and jumping around is it makes the girls good at adjusting. We were stuck, couldn't get to California, and couldn't afford to just drop a meet. We are very grateful to Minnesota that they allowed us the option to compete," said head coach Larissa Libby. "Everything leading up to the meet was just so stressful, so for the girls to show up and be on their game was fantastic."
Two GymHawks earned a total of three career bests to highlight the competition. Leading the pack was Senior Sydney Hoerr with a pair of bests on beam (9.775) and bars (9.925). Hoerr's performances earned her a first place title on bars, second place overall on floor, and fourth place in the all-around.
Iowa started the night on beam, where sophomore Angel Metcalf lead the GymHawks posting a score of 9.875 and taking second place overall. Metclaf also earned a fourth place finish on vault (9.825) and second in the all-around (39.325).
The GymHawks moved to floor where junior Alie Glover (9.875), sophomore Mollie Drenth (9.850), and Metcalf (9.825), finished fifth, sixth, and seventh, respectfully.
Iowa took the lead after the second rotation with a score of 97.925. New Hampshire (97.500) followed closely in second and Minnesota (96.975) in third.
The GymHawks closed the night on bars with a score of 48.775, giving them a final score of 195.000. Freshman Melissa Zurawski tallied the final season best of the night, posting a 9.850 on bars, good enough to take fourth place in the event.
"It was hard all night. I thought they did a really great job sticking together. The attitude and effort they put towards finishing tonight was exceptional," said Libby. "It was hard for all of us. As an athlete, I couldn't event imagine going through all of that and trying the way they did. I thought they did an amazing job rising to the occasion."
Iowa returns to Carver-Hawkeye Arena for its final home contest of the season against Iowa Corn Cy-Hawk Series rival Iowa State on Friday, March 6. The meet is scheduled to begin at 7 p.m. (CT). It will be Senior Night for Sydney Hoerr, Johanny Sotillo, Caitlin Tanzer, Emma Willis, and Jessica Morreale.