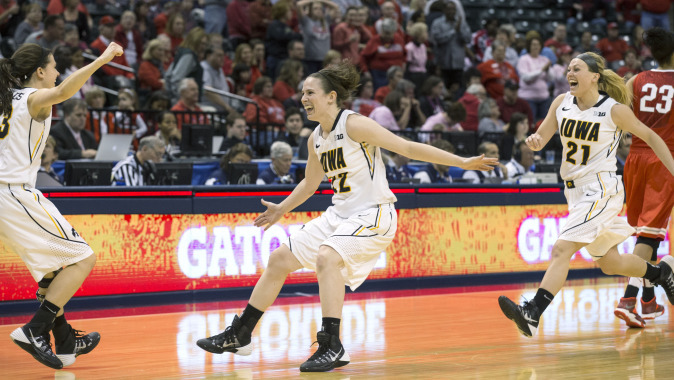 March 1, 2015
2015 Big Ten Tournament Bracket

IOWA CITY, Iowa — The 16th-ranked University of Iowa women's basketball team has finished second in the Big Ten and earned the No. 2 seed in the 2015 Big Ten Conference Tournament, the conference office announced Sunday night.
The tournament, set for March 4-8 at Sears Centre Arena in Hoffman Estates, Illinois, features a five-day format for the first time in conference history.
Iowa (23-6, 14-4) earned a double-bye in the inaugural 14-team format. The Hawkeyes will open play Friday at 6 p.m. (CT), facing seventh-seeded Nebraska or 10th-seeded Illinois. The winner will play at approximately 8:30 p.m. on Saturday in the semifinals, while the championship game is set for Sunday at 6 p.m.
Iowa swept the regular season series against Nebraska, winning in Iowa City, 78-72, in overtime on Jan. 26, and in Lincoln, Nebraska, 69-61, on Feb. 12. The Hawkeyes dropped a 73-61 decision at Illinois in the only meeting on Jan. 8.
The Hawkeyes fell short of their quest to win four games in four days in last year's Big Ten Tournament, falling to Nebraska in the Big Ten title game, 72-65. Iowa defeated Illinois in the first round (81-62), and Purdue in the quarterfinals (87-80), before downing Ohio State in the semifinals (77-73). Ally Disterhoft, Bethany Doolittle, and Samantha Logic were all selected to the Big Ten All-Tournament Team.
Iowa is 20-18 all-time in the Big Ten Tournament; only three schools have won more tournament games. The Hawkeyes have claimed two tournament titles (1997, 2001), and made four championship game appearances. Iowa (4-1 all-time as the No. 2 seed) won the tournament as a No. 2 seed in Lisa Bluder's first season as head coach (2001), and advanced to the semifinals as the second seed in 2008.
BTN will carry 10 games of the Big Ten Women's Basketball Tournament on Thursday, Friday, and Saturday, while Wednesday's opening games will appear on BTN Plus. The championship game will be televised by ESPN.
Big Ten Women's Basketball Tournament tickets can be purchased through the Sears Centre Arena ticket offices at 1-888-SEARS-TIX (732-7784) or www.searscentre.com. Information on tournament tickets, lodging, and history can be found at bigten.org.