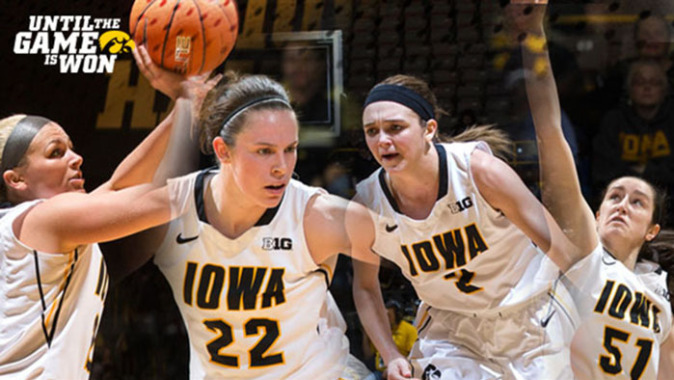 March 2, 2015
IOWA CITY, Iowa — Four University of Iowa women's basketball players — Samantha Logic, Melissa Dixon, Ally Disterhoft, and Bethany Doolittle — have earned All-Big Ten honors, the conference announced Monday. Iowa equaled Maryland for the most all-league selections.
For the second-straight year, Logic has been named a unanimous first team selection by the coaches, and a first team selection by the media. Dixon and Disterhoft earned second team honors from both the coaches and the media, while Doolittle earned second team honors from the coaches, and honorable mention honors from the media. Dixon also earned Iowa's Sportsmanship Award nomination.
Iowa's four selections are the most since 2009. The Hawkeyes have had three All-Big Ten honorees in each of the previous five years.
Logic, the Big Ten Player of the Week and ESPN's National Player of the Week, becomes the first Hawkeye since Kachine Alexander (2010, 2011) to earn multiple first-team All-Big Ten honors, and the ninth in program history. The team co-captain has been honored by the Big Ten in all four years, earning third team honors as a sophomore, while being named to the All-Freshman Team in 2012.
Logic, named preseason All-Big Ten and preseason All-America by ESPN, has been named a 2014-15 `Wade Watch' candidate, a Nancy Lieberman Award finalist, to the Naismith Trophy Women's Midseason 30 List, the John R. Wooden Award Women's Late Season Top 20 List, and the Dawn Staley Award Watch List. She has also been named a finalist for the 2015 Senior CLASS Award® and a Capital One Academic All-American.
Logic (5-foot-9) is the only player in NCAA history to accumulate at least 1,400 career points, 800 rebounds, 800 assists, and 200 steals.
Logic, the NCAA's active career assists leader (853), ranks third in assists in Big Ten history. She leads the Big Ten and ranks third in the NCAA in the category this season (8.0), while also averaging 13.4 points and 6.9 rebounds per game. Logic is one-of-two players nationally to average at least 11 points, seven assists, and six rebounds per game (Brittany Boyd of California).
Logic is tied for the fifth-most triple-doubles in NCAA history (five), and the most by any player as a member of the Big Ten. Suzie McConnell of Penn State (1985-88) and Louella Tomlinson of St. Mary's (CA) (2008-11) hold the career record with seven.
As a junior, Logic earned honorable mention All-America honors from the Associated Press and the WBCA. The Racine, Wisconsin, native was a unanimous first team All-Big Ten selection by the coaches, and a first team selection by the media, becoming the 18th Iowa player to garner first-team All-Big Ten honors, marking the most of any Big Ten program.
Dixon, a senior from Johnsburg, Illinois, has led the nation in 3-pointers for the majority of this season, averaging nearly four per game. The team co-captain is Iowa's record-holder for 3-pointers in a career (319), season (109), and game (10). The Big Ten single-season record for 3-pointers is 112. Earlier this year, she set a new program record with 10 3-pointers in Iowa's win at Drake, finishing two shy of the NCAA record. The 2013 Big Ten Sixth Player of the Year ranks 14th in career scoring in program history (1,414 points).
Dixon finished 8-of-11 from 3-point range in Iowa's win over Minnesota on Sunday, marking the fourth game this season she has made at least eight 3-pointers in a game (10 at Drake, 8 at Illinois, 9 at Northwestern). The eight 3-pointers set a new Carver-Hawkeye Arena record.
Disterhoft, a sophomore from Iowa City, Iowa, has started the last 46 games for the Hawkeyes, scoring in double figures in 41-of-46 career starts. The Capital One Academic All-American ranks first on the team, and 12th in the conference, in scoring (15.2).
Last season, Disterhoft was one-of-five league rookies named to the 2014 Big Ten All-Freshman Team. She was named honorable mention All-Big Ten by league coaches and media, and became the first freshman in program history to be named to the Big Ten All-Tournament Team.
Doolittle, a senior from Oakdale, Minnesota, finished one block shy of a triple-double in Iowa's win over Minnesota on Sunday (12 points, 12 rebounds, nine blocks). The nine blocks set a new program record. Doolittle has eight double-doubles this year.
The Academic All-Big Ten honoree was named to the 2014 All-Big Ten second team, Big Ten All-Defensive team, and Big Ten All-Tournament Team. Doolittle, one of three 1,000 point scorers in this senior class, ranks 19th on Iowa's all-time scoring list (1,269 points). She ranks second in career blocks at Iowa, and recorded 106 blocks last season, setting a new program single season record.
Head coach Lisa Bluder has now coached 19 players to 44 All-Big Ten honors, including 12 first team picks, 14 second, 10 third, and eight honorable mention selections. She has also coached two Big Ten Freshman of the Year award winners, two Big Ten Sixth Player of the Year recipients, six members of the Big Ten All-Freshman team and three players named to the Big Ten All-Defensive team.
The 14th-ranked Hawkeyes finished second in the Big Ten and earned the No. 2 seed in the 2015 Big Ten Conference Tournament. The tournament, set for March 4-8 at Sears Centre Arena in Hoffman Estates, Illinois, features a five-day format for the first time in conference history.
Iowa (23-6, 14-4) earned a double-bye in the inaugural 14-team format. The Hawkeyes will open play Friday at 6 p.m. (CT), facing seventh-seeded Nebraska or 10th-seeded Illinois. The winner will play at approximately 8:30 p.m. on Saturday in the semifinals, while the championship game is set for Sunday at 6 p.m. BTN will televise games on Friday and Saturday, while the title game is set for ESPN.