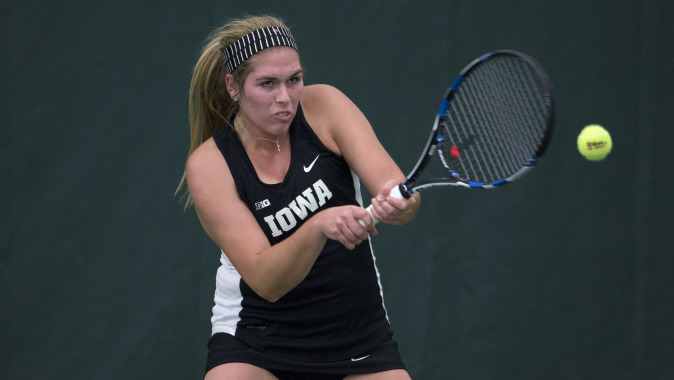 March 4, 2015
Weekly Release

THIS WEEK FOR THE HAWKEYES
The University of Iowa women's tennis team hosts Rutgers on Saturday in its second Big Ten match of the season. Competition begins at 10 a.m. (CT) at the Hawkeye Tennis and Recreation Complex. The Hawkeyes face Kansas State on Sunday at 12 p.m. (CT).
GOING AGAINST THE SCARLET KNIGHTS
This will be the first time in program history that Iowa competes against the Scarlet Knights. Rutgers joined the Big Ten conference at the start of 2014 and currently holds a 5-3 record overall, 0-1 in conference play.
TAKING ON THE WILDCATS
The Hawkeyes lead the Wildcats in the all-time series, 5-2. The last meeting between programs was during the 2010-11 season when Kansas State defeated Iowa, 6-1. Head coach Katie Dougherty holds a 1-1 record against the Wildcats. In her first season at Iowa, the Hawkeyes swept Kansas State, 7-0.
MCCULLOCH MOVES TO NO. 2
Morven McCulloch has won two of three matches since moving to the No. 2 singles position. She has 22 career appearances at No. 2 and is 11-11 all-time.
TALCOTT ON TOP
Shelby Talcott holds a 6-2 record at the No. 1 singles position so far this season. She is featured at the top of the lineup for the first time since 2013, when she was 2-0 in limited action at No. 1. Talcott is 8-3 all-time leading off the lineup.
SENIORS DELIVERING
Iowa seniors Shelby Talcott, Katie Zordani, Ellen Silver and Morven McCulloch have a combined 18-9 singles record this season. Talcott and McCulloch are a combined 12-4 at the top of the lineup.
TAKING DOWN RANKED OPPONENTS
Last season, the Hawkeyes beat three ranked opponents, the most since coach Dougherty's first season when Iowa overcame five ranked competitors. The most recent win was against No. 42 Illinois, 4-3, in Champaign, Illinois.
BECOME A FAN
Fans can follow the Iowa women's tennis team at facebook.com and via twitter @Iowa_Tennis. Live results from this weekend are available on the Iowa women's tennis schedule page at hawkeyesports.com.