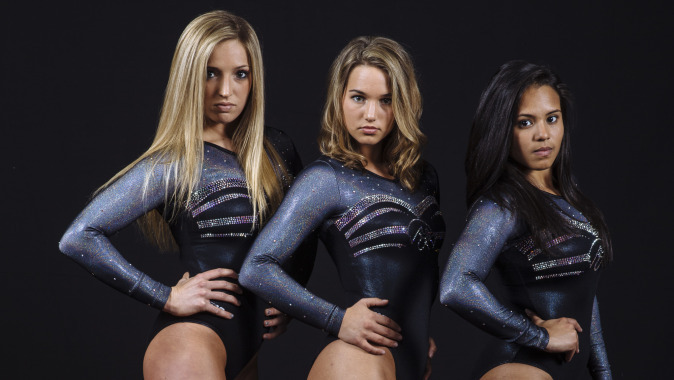 March 5, 2015
IOWA CITY, Iowa — The University of Iowa women's gymnastics team hosts Iowa Corn Cy-Hawk Series rival Iowa State on Friday for its final home contest of the season.
For five GymHawks– Johanny Sotillo, Caitlin Tanzer, Sydney Hoerr, Jessica Morreale, and Emma Willis– it will be the final contest of their career in Carver-Hawkeye Arena. The University of Iowa will honor the seniors with highlight videos following the conclusion of the meet.
"We have five fantastic seniors that are leaving our program; two of the kids actually had injuries and could not complete their careers but have stayed with the program. They have been as much an influence and help to the program as they would have if they were competing," said head coach Larissa Libby. "So it will be Johanny Sotillo, Caitlin Tanzer, Sydney Hoerr, Jessica Morreale, and Emma Willis, all who have impacted the program tremendously in their time here."
Sotillo has competed in every meet on bars and beam for Iowa this year. She posted her personal best on bars (9.900) against at No. 20 Ohio State on Jan. 24 and her best on beam (9.825) at No. 7 Nebraska on Feb. 7. Tanzer has competed on floor and beam for the GymHawks. Her personal bests are: floor (9.725) and beam (9.750). Her personal best on posted at the Big Ten Quad Meet against Michigan, Minnesota, and Penn State on March 15, 2014.
Hoerr has competed in the all-around for the GymHawks in all four years at Iowa. Last year, Hoerr tied for 54th nationally on bars. Hoerr has received honors such as second team All-Big Ten, Academic All-Big Ten, and named to the Big Ten Watch List twice (2014-15). Her personal bests are: vault (9.875), bars (9.925), floor (9.925), beam (9.825), and all-around (39.400).
Morreale and Willis began working with team as administrative assistants following career-ending injuries. Prior to her injuries, Morreale competed on beam and vault for the GymHawks. She won the beam title against Michigan State and Illinois-Chicago (2/8/13), tying a career-high and posting a team season-best 9.875.
Willis was an all-around competitor for the GymHawks. During her career, Willis received honors such as Academic All-Big Ten and tied for 15th in the all-around at the Big Ten Championships in 2012. She was named Big Ten Freshman of the Week (1/9/12) after leading the GymHawks with top-10 finishes on vault (9.80), floor (9.775), and all-around (38.950).
The seniors, along with their individual accomplishments, have helped earn the team's first top 25 nationally ranking since 2012, highest team score (196.375) since 2013, and helped upset the No. 14 Minnesota.
"For our seniors who have worked very hard to prove themselves within the Big Ten, to take out the No. 14 team after having just gotten into the top 25, is back-to-back awesome weekends," said Libby. "We are very proud of this group of young ladies, not just because of their gymnastics, but they just embody so much more. They are the group that is everything you want your Hawkeyes to be and more. We want to send our seniors off in style with, hopefully, a packed house for them at their last home competition."
The senior GymHawks will not be the only exciting aspect of the nights competition.
"Of course too its Iowa State. The Cyclones are coming into town and that in itself brings its own drama," said Libby. "We usually go back and forth with them; they win, we win. To have both teams under the same roof and competing in our final home meet, we are very close in the rankings now, so that's another reason to come out."
Friday is Student Night. Hawks Nest, Greeks, Residence Halls, and Student Organizations are invited to show their support for the Iowa women's gymnastics team.
"The competition between our teams is always very exciting because we are always very close," said Libby. "We seem to bring out the very best in each other every time we compete and we generally have the best meet of the season against them at that point. Because it takes everything we have. They are a good team. They are exceptional this year. So for both of us, I think it will be a tough competition. One that will be an exciting environment."