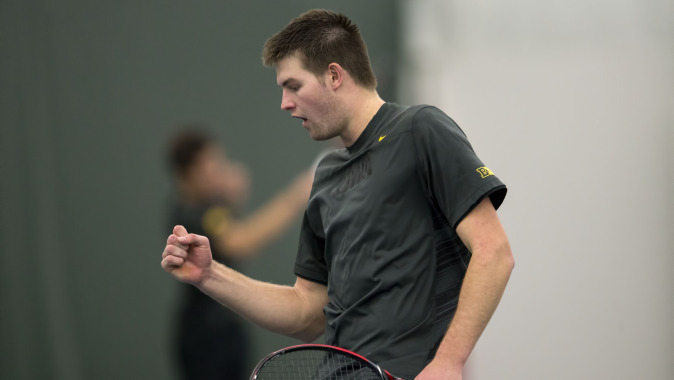 March 12, 2015
Weekly Release

THIS WEEK:
The 51st ranked University of Iowa men's tennis team heads to San Diego, California, for a battle with the 35th-ranked San Diego State Aztecs at the Aztec Tennis Center Monday, at 4 p.m. (CT). The competition does not get any easier for the Hawkeyes as they have a quick turn around before a trip to Minneapolis to take on Big Ten rival and 22nd-ranked Minnesota at the Baseline Tennis Center on Friday, March 20th at 6 p.m. (CT).
HAWKEYES RANKED:
The recent team rankings released March 10th has seen Iowa jump two spots fom 53rd to 51st nationally. Matt Hagan is ranked 104th nationally by the Intercollegiate Tennis Association. The senior is coming off a close loss to Drake's 55th ranked Alen Salibasic (7-6(6-1), 6-4 ) and a victory over Louisiana's Jake Wynana (6-2, 6-0). Doubles duo Hagan and Dominic Patrick have jumped from unranked to 74th according to the latest ITA rankings released on March 10th. Hagan/Patrick last competed together on Feb. 16 against then 54th ranked Utah.
HAWKEYES OPEN UP BIG TEN SCHEDULE:
Friday, March 20th marks the start of a tough Big Ten schedule for the 51st ranked Hawkeyes. Still on the books are home matches against No. 64 Michigan and No. 8 Ohio State as well as road constests against No. 58 Nebraska, No. 3 Illinois and No. 21 Northwestern.
IOWA TOP-10 IN ATTENDANCE:
Through 10 matches in the spring campaign the University of Iowa Men's Tennis team is 8-2, defeating the likes of Yale, BYU, then-No. 54 Utah, Wichita State, and then-No. 75 Louisiana. Big wins have catapulted the Hawkeyes to 51st nationally. With big wins, come big crowds. The Intercollegiate Tennis Association recently released the March 2015 Attendance Race Leaderboard, Iowa cracked the top 10 through February coming in ninth in the country. Iowa and Illinois are the only two Big Ten schools in the top 10. Average attendance at the Hawkeye Tennis and Recreation Complex has been 193.
INTERIM HEAD COACH Ross Wilson:
Ross Wilson, a former two-time NCAA All-American and three-time ITA national doubles champion at Ohio State, is the interim head men's tennis coach after the announcement of Steve Houghton's retirement on Sept. 8. Wilson served as the team's assistant coach last season. Wilson, the 2012 ITA National Assistant Coach of the Year and ITA Central Region Assistant Coach of the Year, came to Iowa after serving as assistant coach at nationally-ranked San Diego during the 2012-13 season. Wilson was a standout at national power Ohio State from 2002-06. He broke the Buckeyes' overall career wins record, career doubles wins record and single season doubles wins record in 2006.
WILSON ON SAN DIEGO STATE AND MINNESOTA:
"San Diego State has had two top 25 wins in the past two weeks and they're No. 35 in the country. It will be a great opportunity for us to try and get our biggest win of the year. We are going to get there a couple days early and get a lot of practice in. Minnesota at No. 22 in the country is another tough team that we'll play. It will be our first Big Ten match and it will be on the road. It's going to be a tough environment but it will be a great opportunity to get a great win and hopefully our first in the Big Ten."