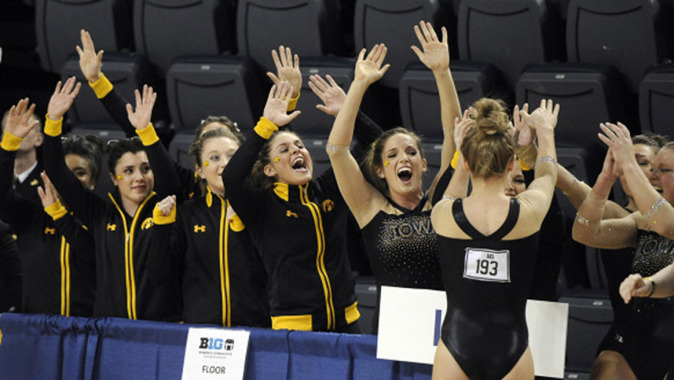 March 21, 2015
ANN ARBOR, Mich. — The University of Iowa women's gymnastics team posted a season high score of 196.500 at the Big Ten Championships on Saturday. The Gymhawks finished first in the morning session and fifth overall — the team's best championship team result since 2010. Iowa's performance marks the highest team score for the program at the Big Ten Championships since March 20, 2004.
"I am absolutely ecstatic, over the moon. It was a great day," said head coach Larissa Libby. "I honestly think we are just on the edge of our full potential. I think they have found a groove right now that they are comfortable in. They are very comfortable around each other and secure in the gymnastics that they are doing. So I think that helps them."
In addition to Iowa's top team performance, five GymHawks received individual conference awards. Sophomore Mollie Drenth, junior Alie Glover, senior Sydney Hoerr, and sophomore Angel Metcalf were all named to the All-Championships Team, while junior Opua Calucag collected the Sportsmanship Award. Iowa has only had one other gymnast named to the All-Championship Team (Emma Stevenson, 2012).
Six conference teams entered the Big Ten Championships ranked in the GymInfo Top 25 poll; Michigan paced the conference at No. 6, followed by No. 10 Nebraska, No. 11 Penn State, No. 16 Illinois, No. 19 Minnesota and No. 24 Iowa.
Despite the tough competition, five GymHawks tallied a total of 10 season best scores. Hoerr and Drenth led the GymHawks, each collecting a trio of season bests on vault, beam, and in the all-around. Glover earned a pair of season bests on vault and floor, while sophomore Caroline McCrady tallied a season high on vault and Metcalf collected a season best on floor.
Seven GymHawks placed in the top 26 during the competition. Glover lead the GymHawks with a second place finish on vault (9.925) and a fourth place finish on floor (9.900). Metcalf tied her teammate for fourth on floor (9.900), placed 19th in the all-around (38.575), and earned a 26th place finish on bars (9.825).
Hoerr collected 10th place finish in the all-around (39.350), 12th place overall on bars (9.875), and 17th on beam (9.825). Drenth earned second place on beam (9.900) and took 17th for her first time the in all-around (39.175).
Senior Johanny Sotillo took ninth place on beam (9.850) and collected a 12th place finish on bars (9.875). Rounding out the awards for the GymHawks is freshman Melissa Zurawski, who placed 26th on bars (9.825).
"We made mistakes today and the good thing is that when they make mistakes they don't panic. They focus, they stay disciplined, and they are able to continue to move forward," said Libby. "I keep saying they haven't had their best meet yet, so to come to the conference championships and score a season high, we couldn't have asked for more. We had some challenges today and we have dealt with challenges all year. We had to switch some people in and out, but the greatest thing about this team is that they never say die. I think that they are almost there, almost where they need to be and it is coming on at the right time."
Michigan captured the Big Ten title with a score of 197.825. Illinois finished runner-up (197.350), followed by Nebraska (196.875), Penn State (196.725), Iowa (195.500), Minnesota (196.450), Maryland (196.075), Michigan State (195.650), Ohio State (195.250), and Rutgers (193.125). Michigan's Nicole Artz won the all-around title with 39.650.
"In the end, we are just really proud of the job the team did today and that's all we ask from them. They got their job done and the rest is out of our control," said Libby. "We did what we came here to do. Our goal was for at the end of the meet, whatever happens, win or lose, we make sure that people recognize who we are when we come out of this competition. I think they did just that. "
Iowa gymnastics will find out if it has done enough to qualify for NCAA Regional competition on Monday afternoon. The selection show begins at 2 p.m. (CT) on ncaa.com.