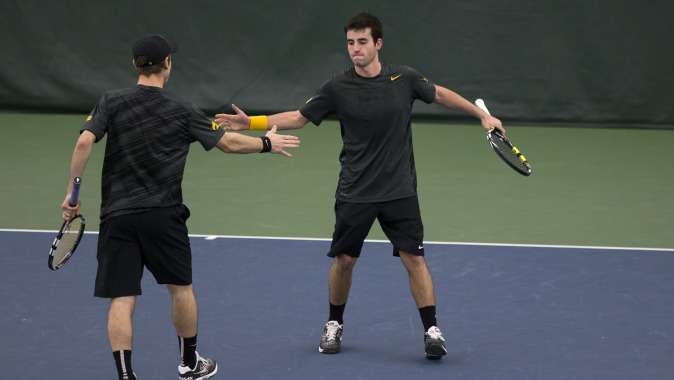 March 25, 2015
Weekly Release

THIS WEEK:
The University of Iowa men's tennis team, ranked 54th nationally, hosts back-to-back Big Ten opponents Friday and Sunday at the Hawkeye Tennis and Recreation Complex. The Hawkeyes (9-4) will battle the University of Michigan Friday at 6 p.m. (CT). They will have a short break before a match Sunday with Michigan State at 11 a.m. (CT). Admission is free to the public for both matches.
HAWKEYES RANKED:
The recent team rankings released March 24, has Iowa ranked 54th nationally. Matt Hagan is ranked 96th in the country by the Intercollegiate Tennis Association. The senior has posted a 6-5 record thus far in the spring campaign, playing at the No. 1 singles position for the Hawkeyes.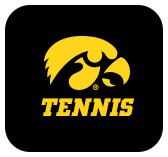 HONORING A COACHING LEGEND:
Sunday marked the Hawkeyes' Big Ten home opener against Wisconsin. Iowa posted a 4-3 decision over its Big Ten rival. Before the singles portion of the match took place, former UI head coach Steve Houghton was honored for his accolades as both a coach and player for the UI men's tennis program. Houghton amassed 354 victories in his long tenure at the helm of the program, the most of any coach in school history. Over his impressive three decade-plus coaching career he coached 20 All-Big ten performers and his players received 109 Academic All-Big Ten honors. Before retiring last summer, Houghton led the Hawkeyes to 13 winning seasons. In addition to his coaching career, Houghton had a successful playing career at Iowa (1969-71), lettering three years and winning the No. 5 singles title at the Big Ten championships. His career Big Ten singles record was 21-6, and his career winning percentage of .727 (40-15) is the second best in school history.
FRESHMAN LEADING THE WAY:
Lefteris Theodorou, Josh Silverstein and Jake Jacoby have a combined 27-11 singles record this spring, helping lead the Hawkeyes to 54th in the country. Theodorou has played a majority of the season at the No. 3 singles spot earning a 10-3 record, the best singles record on the team. Silverstein is 9-4 this spring, including a match clinching victory against then-ranked No. 54 Utah on Feb. 16. Jacoby (8-4) also has a match clinching win under his belt. In a come-back effort the freshman defeated BYU's Jacob Sullivan in three sets registering a 4-3 win for his team on Feb. 14.
INTERIM HEAD COACH Ross Wilson:
Ross Wilson, a former two-time NCAA All-American and three-time ITA national doubles champion at Ohio State, is the interim head men's tennis coach after the announcement of Steve Houghton's retirement on Sept. 8. Wilson served as the team's assistant coach last season. Wilson, the 2012 ITA National Assistant Coach of the Year and ITA Central Region Assistant Coach of the Year, came to Iowa after serving as assistant coach at nationally-ranked San Diego during the 2012-13 season. Wilson was a standout at national power Ohio State from 2002-06. He broke the Buckeyes' overall career wins record, career doubles wins record and single season doubles wins record in 2006.