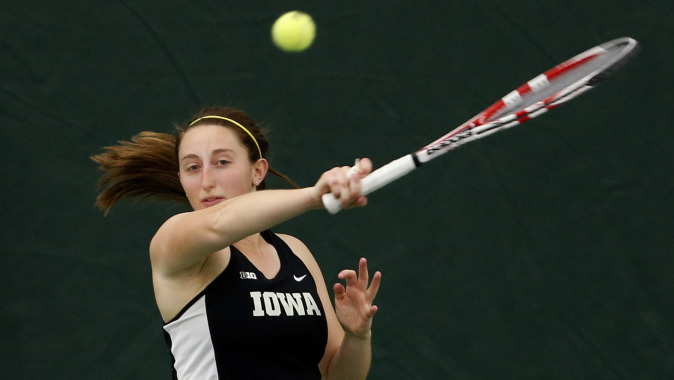 March 31, 2015
Minnesota, Wisconsin Notes

THIS WEEK FOR THE HAWKEYES
The University of Iowa women's tennis team (8-7, 2-3) travels to Minneapolis on Saturday to continue conference play against the 59th-ranked Golden Gophers (13-6, 3-2). Competition is set to begin at 11 a.m. (CT) at the Baseline Tennis Center. On Sunday, the Hawkeyes continue their road trip to meet Big Ten opponent Wisconsin (8-7, 2-3). Action begins at 12 p.m. inside Nielsen Tennis Stadium.
GOING AGAINST THE GOPHERS
Iowa trails the all-time series against Minnesota, 36-21. Last season, the Gophers collected a 6-1 victory at home over the Hawkeyes. Iowa's last triumph was 2013, posting a 6-1 win in Iowa City. The last time the Hawkeyes collected a victory in Minneapolis was 2008, when Iowa took down 54th-ranked Minnesota, 6-1, recording its seventh win in a row that season.
TAKING ON THE BADGERS
Wisconsin leads the overall series over the Hawkeyes, 38-9. The Badgers have won four in a row, most recently recording a 4-3 victory in 2014. The Hawkeyes last saw success over Wisconsin in 2010, when Iowa registered a 5-2 win in Madison.
A DOUBLES FORCE TO BE RECKONED WITH
Senior Morven McCulloch and junior Annette Dohanics are 6-1 as a doubles team this season. They have won four in a row, most recently defeating Nebraska's Izabella Zgierska and Mary Hanna, 8-4, at the No. 1 doubles position. The pair holds a 4-0 record against Big Ten opponents.
TALCOTT ON TOP
Shelby Talcott holds a 10-3 record at the No. 1 singles position. She is featured at the top of the lineup for the first time since 2013, when she was 2-0 in limited action at No. 1. Talcott is 12-3 all-time leading off the lineup.
SENIORS DELIVERING
Iowa seniors Shelby Talcott, Katie Zordani, Ellen Silver and Morven McCulloch have a combined 30-21 singles record this season. Talcott and McCulloch are a combined 18-9 at the top of the lineup.
TAKING DOWN RANKED OPPONENTS
Last season, the Hawkeyes beat three ranked opponents, the most since coach Dougherty's first season when Iowa overcame five ranked competitors. The most recent win was against No. 42 Illinois, 4-3, in Champaign, Illinois.
BECOME A FAN
Fans can follow the Iowa women's tennis team at facebook.com and via twitter @Iowa_Tennis. Live results from this weekend are available on the Iowa women's tennis schedule page at hawkeyesports.com.