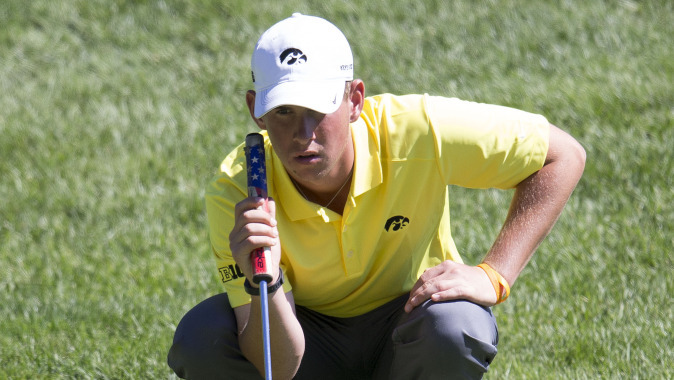 April 3, 2015
1st and 2nd Round Results

TEMPE, Ariz. — Through two rounds of competition at the 43rd annual ASU Thunderbird Invitational on Friday, the University of Iowa men's golf team sits in sixth place, shooting 572 (+12) as a team. The two-day tournament is being held at Karsten Golf Course in Tempe, Arizona.
Tournament host and 10th-ranked Arizona State leads the 14-team field, carding a 544 (-16) on 36 holes.
"The golf course was windy early on and scoring was difficult," said UI head coach Tyler Stith. " We missed some opportunities, but were able to yield lower scores in the afternoon."
Two Hawkeyes are in the top-30 of the 78-player field, led by sophomore Raymond Knoll. After carding a 72 (+2) in the first round, Knoll fired a season best two-under-par 68 in the second, jumping 16 spots on the individual leaderboard and putting him in a five-way tie for 10th place individually at 140 (E).
"Raymond played great today," said Stith. "I'm proud of the way he managed himself after a tough start."
Sophomore Carson Schaake is currently tied for 26th place individually. Schaake, an Omaha, Nebraska, native, fired first and second round scores of 73 (+3) and 70 (E) to put him at 143 (+3).
Junior Voramate Aussarassakorn is tied for 40th place after registering rounds of 72 (+2) and 73 (+3), putting him at five-over-par 145 through 36 holes. Senior Brian Bullington finished one stroke behine Aussarassakorn, carding an even-par 70 in the first round and a 76 (+6) in the second. Bullington is tied for 47th place at 146 (+6).
Senior Ian Vandersee carded rounds of 71 (+1) and 75 (+5) and is tied for 52nd place at 147 (+7).
"Everyone is in a great frame of mind and ready to go for tomorrow," said Stith.
The Hawkeyes wrap things up in Arizona with a final round of 18 on Saturday morning. Live stats are available at golfstat.com.