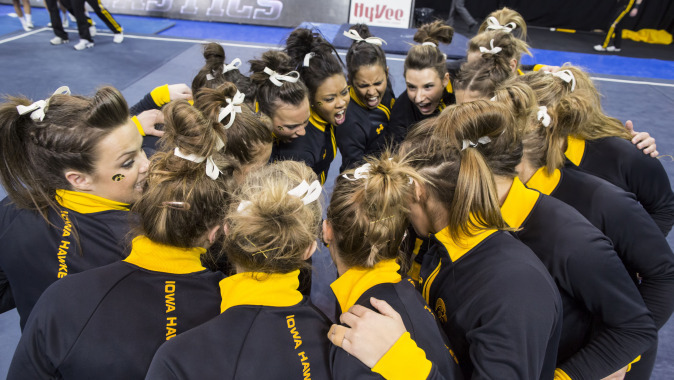 April 4, 2015
Editor's Note: The following first appeared in the University of Iowa's Hawk Talk Daily, an e-newsletter that offers a daily look at the Iowa Hawkeyes, delivered free each morning to thousands of fans of the Hawkeyes worldwide.
By JIL PRICE
hawkeyespors.com
IOWA CITY, Iowa — After missing out on NCAA Regional team competition a year ago, the No. 23-ranked University of Iowa women's gymnastics team is ready to embrace the opportunity to display its talents on a big stage in front of a rowdy crowd at the Auburn Regional.
"It will be awesome," senior Sydney Hoerr said. "The environment is phenomenal and the fans are there to watch quality gymnastics. They're not there to watch one team and will cheer everyone on. Having that crowd and that environment makes it that much more exhilarating for us."
"People might think it's a disadvantage to be in a place that's loud if you aren't used to it, but our team is loud on its own," said UI head coach Larissa Libby. "To have this atmosphere and amazing fans, who appreciate great gymnastics, will be something we can use to our advantage. They will consistently and constantly think everyone is cheering for them, even if they're not.
"I am excited to take them back into an atmosphere when they truly know who they are and can use that to their advantage to peak at the right time."
The GymHawks, who earned a No. 4 seed for the postseason, are riding high into regional competition after kicking off the postseason with a bang at the 2015 Big Ten Championship. Iowa recorded its highest championship team score since 2004 with a season-best mark of 196.500, and had 10 individuals post season-high scores.
A program high four gymnasts — Hoerr, sophomore Mollie Drenth, junior Alie Glover, and sophomore Angel Metcalf — were named to the All-Big Ten Championship Team, and Iowa's fifth place result marked the team's best finish since 2010.
With the progress made in the last month, the GymHawks earned their seventh NCAA Regional berth in the last eight seasons. The program has sent its team or individual qualifiers to regionals every year since 2005.
Joining Iowa in the Auburn Regional are No. 5 Alabama, No. 8 Auburn, No. 17 Minnesota, Maryland and George Washington. It's a familiar list for the Hawkeyes, who have already defeated the Golden Gophers and Terrapins in the regular season.
"It's perfect for us," Libby said. "We've been telling them all year long to focus on us and eliminate who else is in the building. Having seen two of the teams already makes it easier to do that. There is nothing new for us to look at, and that's an advantage because it doesn't create stress and anxiety about who is there. We've already seen a good percentage of who we're up against."
As for regional competition goals, the Hawkeyes will focus on themselves, strive for consistency, and continue to improve.
"I'm excited to keep doing what we've been doing," Hoerr said. "We want to go into the arena as a team, stay united, build energy, and take over the environment. We want to focus on the details, encourage each other, and nail our landings."
Fans can watch the GymHawks in action at the Auburn Regional live on the SEC Network+ on the WatchESPN App with march-ins beginning at 5:50 p.m. (CT).
"This team is inspiring to me because they are the same team we had last year, they're just rededicated, refocused, and completely together," Libby said. "They are a family, and that is inspirational on its own, regardless of the gymnastics. Everything they've been through and overcome throughout the year is inspirational.
"I couldn't have asked for a better team to go through the season with. It has been a blast, and I feel very blessed to have this season with my seniors. I don't think you could ask for a better way to finish your career."