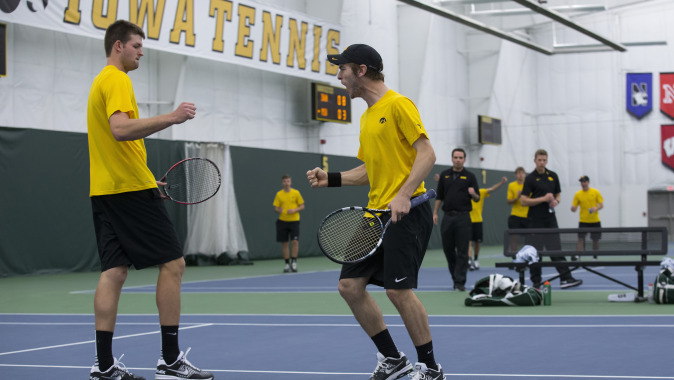 April 6, 2015
Weekly Release

THIS WEEK:
The University of Iowa men's tennis team (11-6), (3-3), ranked 68th nationally, is on the road for three consecutive Big Ten contests against ranked opponents. First, the team travels to Lincoln, Nebraska, for a match with the No. 73 Cornhuskers (10-8), (3-3) on Wednesday at 4 p.m. (CT). The team will then make the trip to Champaign, Illinois for a tough battle with No. 3 Illinois (19-3), (7-0) Saturday at noon (CT). Iowa's road trip will end in Evanston, Illinois when the Hawkeyes square off against No. 24 Northwestern (16-7), (5-2) on Sunday at noon (CT).
LAST TIME OUT:
On the strength of a great singles display, the 68th-ranked University of Iowa men's tennis team got back on track from its loss to Michigan State Friday with a 4-1 win over Purdue at the Schwartz Tennis Center. The team headed into Sunday's match with the 44th-ranked Indiana Hoosiers at the IU Tennis Center Sunday looking to notch its fourth Big Ten win of the spring campaign. Indiana was able to register four singles victories leading to a 4-1 win over Iowa.
HAWKEYES RANKED:
The recent Intercollegiate Tennis Association rankings, released on March 29, have Iowa ranked 68th nationally. Matt Hagan is ranked 96th in the country by the Intercollegiate Tennis Association. The senior has posted a 8-7 record in the spring campaign, playing at the No. 1 singles position. In his latest performances, Hagan faced Purdue's Diego Acosta at the No. 1 spot. Hagan took care of business winning in straight sets, 7-5, 6-4. Against Indiana, Hagan was beaten by Sam Monette, 7-6, 7-6.
HAWKEYES 3-3 IN BIG TEN PLAY:
The Hawkeyes are 3-3 in Big Ten play this spring campaign. In their first conference match on March 20 the team was beaten by Minnesota. Iowa bounced back with two straight wins against Wisconsin and Michigan, before dropping a tight match 4-3 to Michigan State on March 29. The Hawkeyes improved to 3-2 in the conference en route to a 4-1 decision over Purdue, but fell to Indiana in their last match on April 5.
FRESHMAN LEADING THE WAY:
Lefteris Theodorou, Josh Silverstein, and Jake Jacoby have a combined 33-14 singles record this spring, helping lead the Hawkeyes. Theodorou has played a majority of the season at No. 3 singles earning a 12-4 record, the best singles record on the team. Silverstein is 11-5 this spring and Jacoby is 10-5. Jacoby picked up the only victory from this weekend's action. Beating Purdue's Matt Bouggy at No. 6 singles, 6-1, 6-0.
INTERIM HEAD COACH Ross Wilson:
Ross Wilson, a former two-time NCAA All-American and three-time ITA national doubles champion at Ohio State, is the interim head men's tennis coach after the announcement of Steve Houghton's retirement on Sept. 8. Wilson served as the team's assistant coach last season. Wilson, the 2012 ITA National Assistant Coach of the Year and ITA Central Region Assistant Coach of the Year, came to Iowa after serving as assistant coach at nationally-ranked San Diego during the 2012-13 season. Wilson was a standout at national power Ohio State from 2002-06. He broke the Buckeyes' overall career wins record, career doubles wins record and single season doubles wins record in 2006.