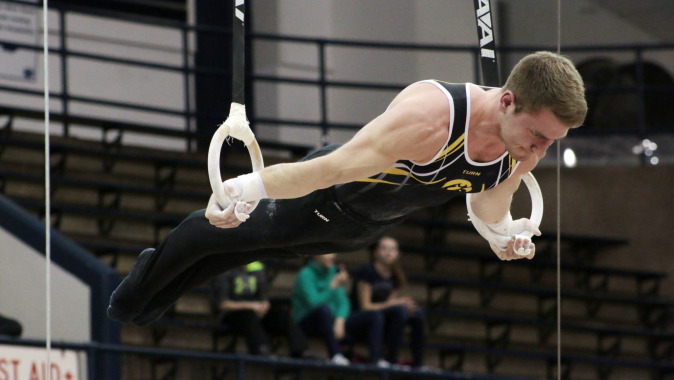 April 8, 2015
NCAA Championships Release

THIS WEEK:
The No. 8-ranked University of Iowa men's gymnastics team competes at the NCAA Championships, hosted by the University of Oklahoma. The meet will take place on April 9-11 inside the Lloyd Noble Center in Norman, Oklahoma.
FOLLOW ALONG:
Fans can follow the meet online through live stats. A live stream of the meet is also available. Links to both are located on the Iowa men's gymnastics schedule page at hawkeyesports.com. The meet will be televised on Fox College Sports Atlantic.
A LOOK BACK TO 2014 NCAA CHAMPIONSHIPS:
?The Hawkeyes placed fourth at last year's NCAA qualifier with a team score of 425.950, but missed team finals.
?Michigan won its sixth national title with a 445.050, followed by Oklahoma (441.650), Stanford (436.300), Illinois (435.350), Ohio State (433.500) and Penn State (429.800).
?Iowa had seven gymnasts compete individually. Former Hawkeye Mitchell Landau (15.100) placed third on high bar, qualifying for event finals. Matt Loochtan also qualified for event finals on rings, finishing seventh with a score of 14.950. Loochtan (15.000), Matt McGrath (14.350) and Jack Boyle (13.800) all competed on floor and finished 19th, 32nd and 40th, respectively. Sullivan (14.550) tied for 23rd on pommel horse. Boyle posted a 14.200 on vault, placing him 33rd. Boyle (31st) and Lance Alberhasky (42nd) competed on parallel bars, tallying scores of 14.400 and 13.800, respectively.
?Boyle placed 10th in the all-around competition (84.650). Loochtan (14.925) earned All-American status on rings, finishing seventh. Landau (14.925) placed seventh on high bar, earning All- American status as well.
HISTORICALLY AT THE NCAA CHAMPIONSHIPS:
?The Hawkeyes have won an NCAA title once in 1969 when Newton Loken was the coach.
?Since 1998, Iowa has finished in the top 5 nationally three times (1998, 2000, 2013).
?Nine Hawkeyes (Lance Alberhasky, William Albert, Jack Boyle, Brandon Field, Cyrus Dobre-Mofid, Matt Loochtan, Del Vecchio Orozco, Emmanuel Monroy, and Doug Sullivan) remain from the 2013 team.
?In 2013, Javier Balboa became the first Hawkeye since 2005 to become an all-around All-American. He also was named an All-American on rings with teammate Anton Gryshayev. Three All-America honors are the most since 2005.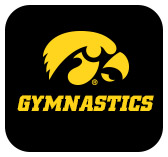 SCOUTING THE FIELD:
?Oklahoma comes in as the top ranked team in the country. The Sooners set an NCAA record with a team score of 457.300 against Illinois on Feb. 27. The team also comes in as the MPSF champions, defeating Stanford, California and Air Force. Oklahoma is ranked first on every event this season.
?Stanford is ranked second behind Oklahoma. The team's notable wins include a victory over Illinois on March 6. The Cardinals have the nation's top all-around gymnast in Akash Modi (89.863 average).
?Penn State comes into the postseason as the highest ranked Big Ten School (437.850 average), and the 2015 Big Ten Champions. The Nittany Lions defeated Iowa in both their regular season meetings this season. Michigan finished third at the Big Ten Championships, following back-to-back Big Ten titles. The team posted a season high 443.050 and is tied for second in the country on vault, (74.325 average).
?The Illinois Fighting Illini are coming off a second place finish at the Big Ten Championships. The Illini average a team score 432.805 on the season. Illinois has the Big Ten Freshman and Gymnast of the Year in Bobby Baker.
?Minnesota ranks two spots ahead of Iowa in the latest national poll according to roadtonationals.com (April 6). Iowa has faced off against Minnesota three times this season, most of any team, winning once and losing twice. Minnesota has the reigning Big Ten Champion on pommel horse in Ellis Mannon.
?Ohio State enters the NCAA Championships following a fifth place finish at the Big Ten Championships. The Buckeyes average a 429.663 in their meets in 2015. Iowa defeated Ohio State on February 1.
?Nebraska ranks 11th in the latest national poll, averaging a 421.679. The Hawkeyes defeated the Cornhuskers twice this season including the team's season finale with Minnesota and Penn State.
LAST TIME OUT:
The Hawkeyes competed in the Big Ten Championship at Penn State at March 27-28. The team finished sixth (427.600). Host Penn State won the title (436.700), defeating two-time defending Big Ten Champion Michigan. Freshman Austin Hodges set a career-high on pommel horse with a score of 14.500, qualifying him for event finals along with Jack Boyle, Matt Loochtan, Doug Sullivan and Cyrus Dobre-Mofid. In event finals, Sullivan led the Hawkeyes with a third place finish on pommel horse (14.800) and was named second team all-conference. Hodges placed seventh on pommel horse (14.575). Boyle (15.150) and Loochtan (15.075) placed sixth and seventh on rings, respectively, and Dobre-Mofid (14.575) finished sixth on parallel bars.
SIX HAWKEYES SET CAREER HIGHS ON VALENTINES DAY:
At a February 14 meet in Iowa City, the Hawkeyes set six career-highs and came from behind to defeat Minnesota and Nebraska on Senior Night. Iowa set a season high on parallel bars with a 72.800. Cory Paterson (14.400), Matt Loochtan (14.800) and Dylan Ellsworth (14.500) all set career highs on the event. Paterson also set a career high on high bar with a 14.900.
BOYLE NAMED GYMNAST OF THE WEEK:
Junior Jack Boyle was named Co-Big Ten Gymnast of the Week following Iowa's win over UIC on Jan. 24. Boyle contributed two event titles — on rings (15.400) and floor (14.750) and finished second on parallel bars (14.400). It is Boyle's first weekly honor of his career and the first for the Hawkeyes since Matt McGrath earned the award on March 17, 2014.
LOOCHTAN COMPETES IN WINTER CUP FINALS:
The University of Iowa men's gymnastics team sent Matt Loochtan to represent the Hawkeyes at the Winter Cup Challenge in Las Vegas, Nevada, on Feb. 20-22. Loochtan qualified for finals following a 15.010 on vault, finishing fourth overall. In finals, he scored a 14.900 clinching fourth overall on vault with a combined score of 30.010. Loochtan's other events included a 14.600 on floor, claiming eighth place, 13.650 on rings, and 13.250 on parallel bars.
IOWA SETS SEASON HIGH TEAM SCORE:
In a Feb. 27 meet at Penn State the Hawkeyes set a new season high team score with a 435.750. Despite the performance, Iowa fell to Penn State. The team set a new high score on high bar (71.850) and junior Jack Boyle was first on the event, scoring a season high 14.900. Junior Cyrus Dobre-Mofid finished first on parallel bars and set a career-high with a 15.150.
SPECTACULAR SULLIVAN:
Junior Doug Sullivan ended the regular season in 10th place in the country on pommel horse. Sullivan posted a top three scores of 14.917 with event titles at the Windy City Invitational (14.900), against UIC (14.950), and at Illinois (14.850). At the Big Ten Championship, Sullivan was named second team all-conference on pommel horse with a score of 14.450.
3 FRESHMEN CONTRIBUTE:
Iowa has had three freshmen come in and contribute immediately. Dylan Ellsworth, Austin Hodges and Elijah Parsells were all regulars in the lineup. Ellsworth competed on rings, vault and parallel bars. He posted a season high 14.800 on vault, third best on the team, while Hodges and Parsells saw their best scores on pommel horse. Parsells, a specialist on the event, scored a season high 14.750 for second best on the team behind Sullivan and Hodges' 14.450 was fourth best.
HEAD COACH JD Reive:
Entering his fifth year as head coach of the Hawkeyes, Reive has high expectations for his team. For the first time in his career Reive has a team comprised of gymnasts he personally recruited. He is looking to take the program another step forward. In 2014, the gymnasts set seven school records and seven went on to compete individually at the NCAA Championships. The team finished seventh in the Big Ten and missed the team finals at the NCAA Championships in April. Reive led the Hawkeyes to a fifth place finish at the NCAA Championships in 2013, their best finish in a decade. Reive graduated from Nebraska in 2000 with a bachelor of journalism degree and was an assistant at Stanford from 2003-10 where he helped the team grab four top three finishes.
FOLLOW THE HAWKEYES:
Web Address: hawkeyesports.com (see the men's gymnastics schedule page for links to live stats and live streams)
TV: Fox College Sports Atlantic
Facebook: facebook.com/iowagymnastics
Twitter: twitter.com/iowagymnastics
Youtube: youtube.com/iowagymnastics
Live Stats: http://www.soonersports.com/fls/31000/mgym2015/mgymqual2.htm
Live Stream: m.ustream.tv/channel/iowamensgymnastics