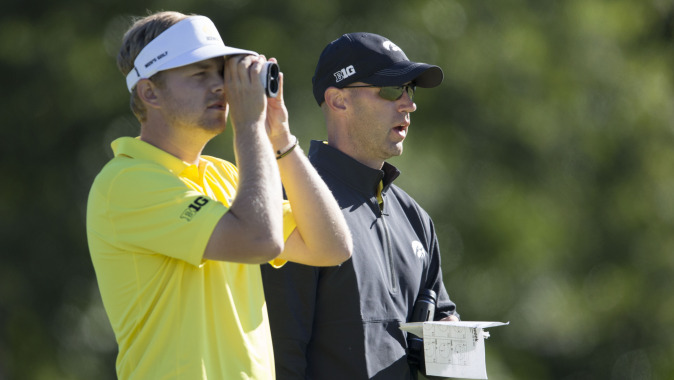 April 8, 2015
Editor's Note: The following first appeared in the University of Iowa's Hawk Talk Daily, an e-newsletter that offers a daily look at the Iowa Hawkeyes, delivered free each morning to thousands of fans of the Hawkeyes worldwide. To receive daily news from the Iowa Hawkeyes, sign up HERE.
BY SAM STYCH
IOWA CITY, Iowa — For Tyler Stith, first-year head coach of the University of Iowa men's golf team, sporting the Tigerhawk logo is nothing new, but that doesn't change the amount of pride and honor that comes with it.
"It's hard to describe how proud it makes me to be a Hawkeye," said Stith. "Both the state and the University of Iowa mean so much to me, and I know that my family is proud. It is a great honor to be in my position; being able to mentor our student-athletes while continuing the tradition of this program is something I take pride in."
Growing up in Mount Pleasant, Iowa, Stith was raised a Hawkeye. He joined the men's golf team in 1998, where he went on to be a four-year letterwinner. He was a team captain as a senior, but his ride with the Hawkeyes didn't stop there.
In 2009, Stith was hired as an assistant coach, a position he held for 3 1/2 seasons. During this stint in Iowa City, Iowa's national ranking improved from No. 155 to No. 9. Iowa also recorded a school-record 10th-place finish at the 2011 NCAA Championships. That same year, Stith was named a semifinalist for the Jan Strickland Award in 2011, an honor given to the top assistant in NCAA golf.
Following his success at Iowa, Stith headed north where he became the assistant coach at Minnesota. After enjoying success in Minneapolis, including a Big Ten title in 2014, Stith would once again find himself back in Iowa; this time as the program's head coach.
"It is something I have dreamed of and I'm very fortunate and grateful for the opportunity," said Stith. "Luckily for me, when the position became available I was prepared and ready for a new challenge."
Stith is happy with how his first season with the Hawkeyes has transpired, but he knows this team is capable of doing even bigger things.
"We've had a successful season thus far," said Stith. "Currently we are ranked 40th in the country, the second-highest in the Big Ten. All eight players on the squad have competed, which shows our depth. Everyone is improving each and every week that we play.
"I am pleased with where we are right now, and I'm excited for what is still to come. I know this group is capable of accomplishing some great things."
Iowa has advanced to NCAA competition in each of the past six seasons, and Stith looks to make that seven in a row this season. With two tournaments remaining, including Iowa's own Hawkeye-GRE Invitational on April 18-19, Stith feels the opportunity is there for the taking.
"Our goals are still right in front of us and within reach," said Stith. "We want to win championships, qualify for NCAA Regionals and ultimately the NCAA Championships. With two tournaments remaining we are focused and on schedule."