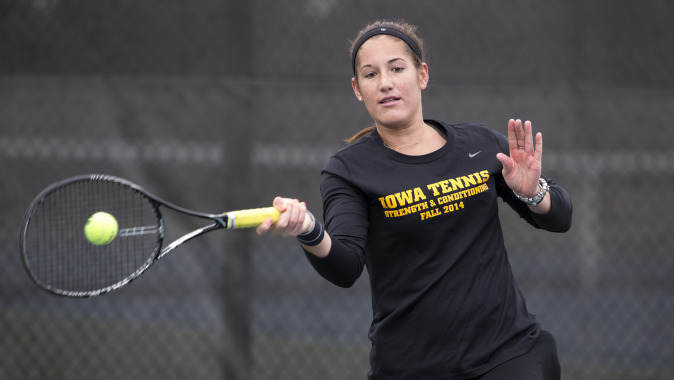 April 8, 2015
University of Iowa senior Ellen Silver competes at the Hawkeye Tennis and Recreation Complex for the final time this weekend. Iowa hosts Ohio State on Friday at 4 p.m. and Penn State on Sunday at 11 a.m. Silver and her fellow seniors will be recognized following Sunday's Match.
Q: What has been your favorite part of being a member of the Iowa Tennis program?
A: was in an honor to play to play in the Big Ten conference, the great facilities I got to practice in everyday, traveling to different colleges to play, and being a part of a special team.
Q: What is your best tennis memory while playing at Iowa?
A: Putting on the Hawkeye uniform every game day and giving lice to two of my teammates freshman year.
Q: What will you miss most about Iowa City?
A: All of the incredibly nice people, the football games, and hearing a "go hawks" everyday.
Q: What is your favorite spot on campus?
A: Carver and starbucks
Q: What is the greatest lesson you have learned while in college?
A: Discipline, hard work, and responsibility
Q: Is there anything tennis-related that you regret or wish you would have done differently?
A: Nothing.
Q: What advice do you want to pass along to the underclassmen?
A: Cherish everyday because it goes so fast and know how lucky you are to be a Hawkeye.
Q: What has made your experience at Iowa different than any other tennis experience you've had?
A: The opportunity to play and be apart of the Big Ten Conference and play for a great school like Iowa. Also, I have met some of the nicest people here who I will have friendships with for a lifetime and no matter where we travel to, we always here someone say to us "go hawks!" I am so lucky to have been a part of the Hawkeye Nation.