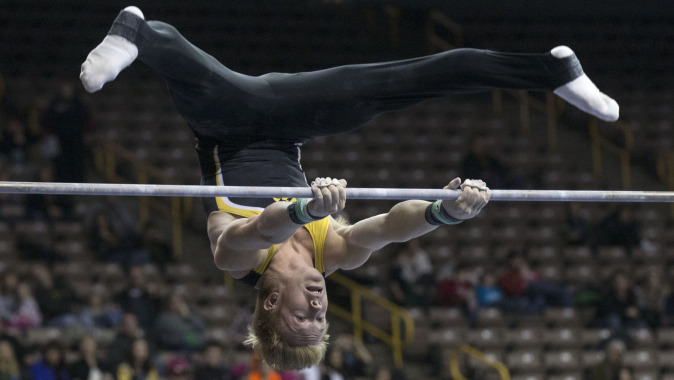 April 9, 2015
Session 2 Results

NORMAN, Oklahoma — The University of Iowa men's gymnastics team qualified for team finals, placing third in the second session of the NCAA team qualifier on Thursday afternoon with a score of 435.050.
Oklahoma finished in first place with a score of 450.750, followed by Michigan (437.000), Iowa (435.050), Illinois (432.450), Ohio State (427.900) and Army (408.500).
Iowa started the qualifier off on high bar led by sophomore Cory Paterson (15.000), who placed third. Juniors Jack Boyle and Cyrus Dobre-Mofid tied for 13th with scores of 14.600. The team set a new season high on the event with a 72.400. Jordan Valdez of Illinois won the event, tallying a score of 15.200.
Junior Matt Loochtan kept the Hawkeyes going on floor exercise, tying for 10th with a score of 14.950. In 12th place was Boyle with a score of 14.850. Paterson (16th) set a season high, posting a score of 14.700. Iowa's 73.650 set a new season high for floor. Oklahoma's Colin Van Wicklen won the event with a score of 15.600.
Iowa was on pommel horse in the third rotation. Junior Doug Sullivan led the Hawkeyes with a score of 14.950, tying for third on the event. Junior Del Vecchio Orozco finished in eighth place, recording a score of 14.400, while freshman Elijah Parsells scored a 14.350, tying for ninth on the event. Michael Reid of Oklahoma won the event with a score of 15.700.
A huge rings rotation had four Hawkeyes land scores of 15.000 or better. Boyle (fifth) led the way with a 15.300, Loochtan (seventh) followed with a 15.200, while Botto and senior William Albert both scored a 15.000 to tie for ninth. Michael Squires on Oklahoma won the event with a 16.300.
After four rotations the Hawkeyes were in second place with a score of 291.800 trailing Oklahoma's 301.900.
In the second to last rotation, Iowa headed to the vault. Botto tallied a 14.900, finishing in fifth place. Dobre-Mofid scored a 14.500 to place 18th, while senior Brandon Field finished tied for 24th with a score of 14.250. Anthony Stefanelli from Michigan won the event with a score of 15.300.
With Iowa in third place, it all came down to the final rotation with the Hawks on parallel bars. Dobre-Mofid tallied a 14.600 and finished tied for 10th. Senior Lance Alberhasky (13th) scored a 14.550 and Paterson (17th) posted a 14.300. Reid won the event, scoring a 15.200 for his second event title.
Illinois' C.J. Maestas won the all-around competition with a score of 89.400.
The Hawkeyes are looking for their best finish since 2013 when the team finished fifth overall. Iowa is back in action on Friday for the team finals, starting at 7 p.m.