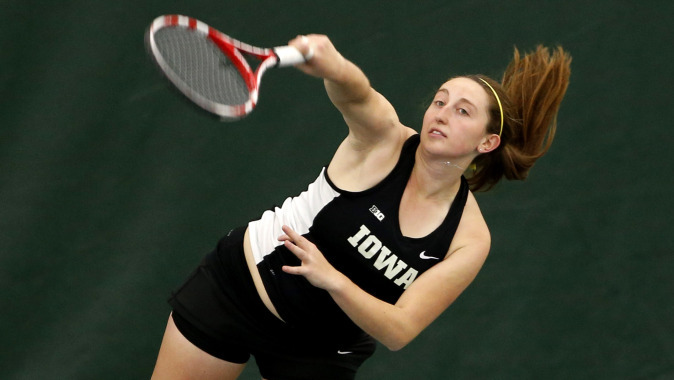 April 9, 2015
University of Iowa senior Morven McCulloch competes at the Hawkeye Tennis and Recreation Complex for the final time this weekend. Iowa hosts Ohio State on Friday at 4 p.m. and Penn State on Sunday at 11 a.m. McCulloch and her fellow seniors will be recognized following Sunday's Match.
Q: What has been your favorite part of being a member of the Iowa Tennis program?
A: Being surrounded by my amazing, sometimes crazy, teammates and two very supportive coaches. The support from every single member of the team and from the athletics department made it very easy to transition into the Iowa student-athlete environment!
Q: What is your best tennis memory while playing at Iowa?
A: After moving up the rankings with my doubles partner Ruth Seaborne we had the opportunity to go to LA to compete in All-Americans with some of the best players in the country.
Q: What will you miss most about Iowa City?
A: I will probably miss being able to go to all of the different sporting events and being part of the amazing atmosphere that Hawkeye fans create at the home games of every athletic event.
Q: What is your favorite spot on campus?
A: Z'Mariks Noodle Cafe
Q: What is the greatest lesson you have learned while in college?
A: Time-Management!
Q: What advice do you want to pass along to the underclassmen?
A: To take advantage of the amazing facilities and resources that Iowa has to offer and to not take them for granted.
Q: What has made your experience at Iowa different than any other tennis experience you've had?
A: The team aspect of college tennis and having the support of teammates/coaches behind you every time you step onto court is very encouraging. It gives me more confidence as a player and serves as an extra boost of motivation to be successful.
Q: One thing that Coach Dougherty has taught you that will stick with you?
A: She introduced the team to the quote "the hay is in the barn". We didn't take it too seriously at first but it actually ended up being our team motto last year. We would say it before every match to voice the fact that we've put in all of the hard work during the week and now we're ready to get the job done.
Q: Do you have any future tennis plans? If so, what are they?
A: After I graduate I would like to stay involved in tennis so I may play some more tournaments or I might move onto coaching.

?