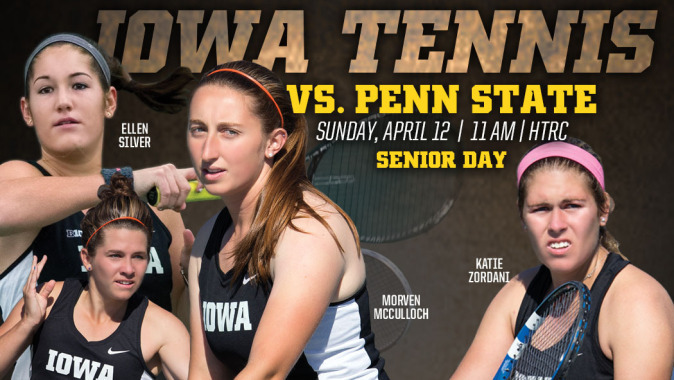 April 11, 2015
Editor's Note: The following first appeared in the University of Iowa's Hawk Talk Daily, an e-newsletter that offers a daily look at the Iowa Hawkeyes, delivered free each morning to thousands of fans of the Hawkeyes worldwide. To receive daily news from the Iowa Hawkeyes, sign up HERE.
By CHRIS BREWER
hawkeyesports.com
IOWA CITY, Iowa — Four years ago University of Iowa head women's tennis coach Katie Dougherty assembled a group of four strangers who, besides being tremendous tennis players, did not share a lot of similarities.
They came from Scotland, the Great Lakes, Long Island, and the Midwest.
They settled in Iowa City and for four years called it home, eventually discovering that they all agree on at least one thing:
They are going to miss this place.
"The Hawkeye community is so much fun to play for," said Morven McCulloch, who site unseen came to Iowa from Scotland. "I'm going to miss putting on the Hawkeye shirt and going out and playing for the Hawkeye community."
McCulloch, Ellen Silver, Shelby Talcott, and Katie Zordani were teenagers with very different pasts when they arrived in 2011. Together they composed the 18th-ranked recruiting class in the nation, but in the years since, they've developed into much more.
"We're like sisters now, we do everything together," said Silver. "We have classes together, study together, and are together every day."
The foursome has navigated the college life as classmates, teammates, roommates, doubles partners, travel partners, and everything in between.
They have broken bread together countless times, and have shared both the good moments, and at least one time the bad.
As McCulloch puts it, "spring break is always exciting," but hearing it from Silver, it can get a little dirty.
"Freshman year I got lice and I gave it Katie and Morven, so I'll never forget that," Silver said. "They were pretty scared, but we went through some treatments together and had some team bonding there. It was funny."
Talcott's hair was spared the head bug, but she wasn't spared the hair pick.
"I've dealt with enough lice to last me a lifetime," she said, quite seriously. "But I definitely think we've become really close and stuff like that shows it."
The good has without a doubt outweighed the bad.
McCulloch wasn't sure she was going to visit the United States before committing to a state she knew nothing about. She has since played tennis in 15-20 states, by her count. "I would never have had the chance to do if I hadn't come here, so it's been an awesome opportunity," she said.
Zordani has found a new family, and potentially a new future. She wants to stay on campus and dabble in coaching next season. "I want to stay and help out and see where that takes me. I just can't get enough of this place."
Silver's career and playing time were dogged by injuries, but she says she'll leave those "tough moments" behind and take with her "teammates that I'll be friends with forever."
Talcott has played at the top of the Hawkeye lineup since day one, and she intends to continue her career professionally. A New York kid in 2011, she graduates in 2015 with this bit of cultural information for those behind her:
"You don't go cow-tipping for fun, which is what all my friends back East thought I would be doing. Iowa City is just a place, like anywhere else. It has its differences, but at the end of the day, it's the people that make an experience."
The seniors host Penn State in their final home match Sunday at 11 a.m. (CT) at the Hawkeye Tennis and Recreation Complex. Admission is free, and a senior ceremony will take place following the match.