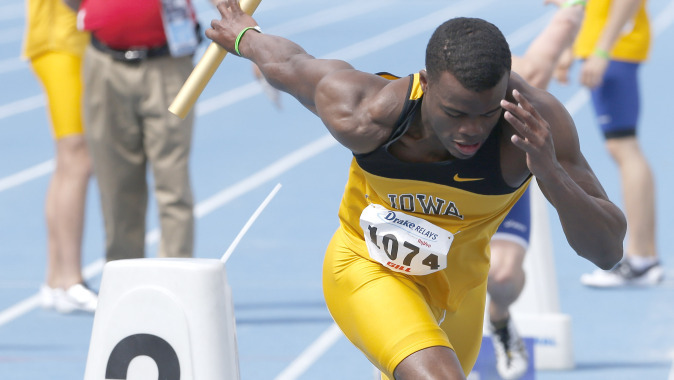 April 11, 2015
Complete Results

| Team Dual Scores

DES MOINES, Iowa — The University of Iowa track and field team captured five gold medals at the 39th Annual Jim Duncan Invitational held at the Drake University Stadium in Des Moines, Iowa, on Saturday.
"This was another great meet for our program and served our team well as we continue to progress throughout the season," director of track and field Joey Woody said. "Every time you win, it builds confidence and it becomes habitual, and we had a lot of winners this weekend."
Junior James Harrington took care of business in the men's 200 meters, posting a winning time of 21.04 and setting a new meet record. Sophomore Vinnie Saucer, Jr. (10.81) sprinted to victory in the men's 100 meters before joining Harrington on the track for the 200 meters (4th; 22.07).
"Vinnie and James had great races," Woody said. "Unfortunately, they both had to race into a big headwind, so their times didn't really match their performances."
Junior Will Teubel (1:50.49) and sophomore Katharina Trost posted a pair of first-place finishes for Iowa in the men's and women's 800 meters. Trost closed in a season best 2:09.28, which would stand seventh in the Big Ten. Freshman Carter Lilly (1:51.33) stayed on the heels of Teubel to finish second, respectively.
Five Hawkeyes cracked the top nine spots in the 400 meters. For the men, senior Kaleb VanCleave cruised to the finish in a career best 47.68 to claim second, respectively, followed by senior Brennan Davey (3rd; 48.27), freshman Nicholas Aly (5th; 48.38), and redshirt freshman Nick Jensen (9th; 49.13). Junior Kaitlyn Nelson (57.95) earned fifth in the women's contest.
"My personal highlight of the meet was Kaleb in the 400," Woody said. "It was a big personal best after dealing with some injuries for a lot of the season. That was a great breakthrough performance for Kaleb and I am very happy for him."
In the field for Iowa, redshirt freshman Alex Balke opened competition Friday with a second-place finish in the men's javelin, posting a personal-best throw of 56.22 meters. Freshman Kayla Hochhalter (145-03 ft., 44.28m) took the title in the women's event.
Freshman Leah Colbert (4th) logged a personal-best performance in the women's hammer throw at 49.80 meters, a mark that lands eighth in school history. Redshirt freshman Carlos Varela-Hernandez (47.98m) earned seventh in the men's competition.
Sophomore Carolyn Newhouse (4:48.36) led the Hawkeyes in the women's 1,500 meters with a 16th-place finish, respectively. Junior Jocelyn Todd (7th/4:37.09) competed unattached. Sophomore Brook Price notched a ninth-place finish in the men's race, crossing the 1,500-meter mark in 4:00.13, while junior Anthony Gregorio (4:02.64) finished 12th, overall.
Iowa concluded action at the Blue Oval with the men's 1,600-meter relay. The quartet of freshman Ryan Dorman, sophomore Jared Ganschow, Davey, and Teubel notched a fifth-place finish in 3:19.38.
The Hawkeyes return to action next weekend at the Mt. Sac Relays in Walnut, California, from April 17-18.