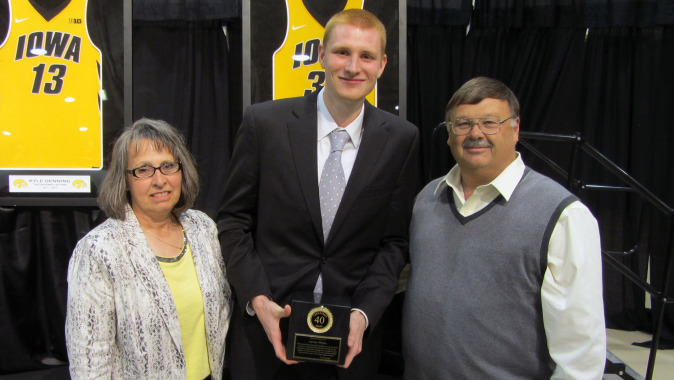 April 13, 2015
IOWA CITY, Iowa — Senior forward Aaron White has been named the recipient of the Chris Street Award for the 2014-15 Iowa men's basketball season. White received the award Monday evening at the team's banquet.
The Chris Street Award is presented annually to a Hawkeye player, or players, who best exemplify the spirit, enthusiasm and intensity of Chris Street. Street was an Iowa basketball player who died in an auto accident in 1993, midway through his junior year.
White finished his collegiate career second in Iowa scoring (1,859), third in rebounding (901), first in games played (140), free throws made (618) and attempted (800), fifth in field goals made (590), and 14th in double-doubles (16). White became Iowa's 25th first-team All-Big Ten honoree, while also earning recognition on the NABC, USBWA and Basketball Times All-District teams.
As a senior, White became only the second Hawkeye since 1984 (Greg Stokes in 1985) to lead the team in scoring (16.4), rebounding (7.3), and steals (1.3) in the same season. He is the only Hawkeye to ever amass more than 1,800 points and 900 rebounds. The native of Strongsville, Ohio, was the only player in the nation in 2015 to average 16 points and seven rebounds, while also shooting better than 50 percent from the field (52 percent) and 80 percent from the free throw line (82 percent). The team co-captain made more free throws than any other Big Ten player the last 50 years, finishing his illustrious career ranked third in conference annals with 618.
White (6-foot-9, 220 pounds) was instrumental in helping Iowa win 12 conference games for the first time in 18 years, and seven true road victories — the most by a Hawkeye team since 1987. During White's four-year career, Iowa won 85 games, which ties for the sixth most in program history.
In addition to the Chris Street Award, White was honored with the team's Best Rebounder Award for a historic fourth time. No other Hawkeye has ever led the team in rebounding four consecutive seasons. White averaged a single-season best 7.3 rebounds per contest in 2015, which ranked fourth best in the conference. He finished his career with 901 rebounds, which ranks third in school history.
Junior guard Mike Gesell was named the team's Top Playmaker in 2015 after sharing the same honor with Roy Devyn Marble a year ago. Gesell is one of three Hawkeyes to ever amass 800 points, 350 assists, 200 rebounds and 100 steals prior to his senior season (Jeff Horner and Dean Oliver). The native of South Sioux City, Nebraska, led the squad in assists (135) and assist-to-turnover ratio (2.2), ranked third in steals (33) and was fourth in scoring (7.4). Gesell will enter his senior campaign ranked eighth at Iowa in career assists (352).
Gesell also was honored with the team's Academic Award for the third straight season. The finance major was voted first-team Academic All-District and became the fifth Hawkeye to earn Academic All-America accolades — earning third team distinction this season. The two-time Academic All-Big Ten honoree, also earned invitation to Beta Gamma Sigma last fall, the National Scholastic Honor Society for business students at the University of Iowa who have garnered GPA's that place them in the top 10 percent of their class.
Other Hawkeyes recognized at the banquet included Kyle Denning, Anthony Clemmons, Gabriel Olaseni, and Jarrod Uthoff.
Clemmons (6-foot-2, 195 pounds) received the team's Most Improved Award. The junior posted single-season bests in 3-pointers made (22), rebounds (66), steals (24), scoring average (4.8), and free throw percentage (.750). He played in all 34 games, leading the team in 3-point accuracy (.373, 22-of-59). The native of Lansing, Michigan, reached double figures four more times this season compared to his sophomore year. Additionally, he more than tripled his 3-point production from a year ago.
Olaseni and Uthoff shared the team's Defensive Player Award after rejecting a combined 110 shots this past season. Uthoff (6-foot-9, 201 pounds), who was a third team All-Big ten selection, blocked a team-best 56 shots, which ranks ninth best in school single-season history. The native of Cedar Rapids, Iowa, finished the 2015 campaign ranked second in team scoring (12.4), rebounding (6.4) and steals (38), and third in assists (59). He was the only Division I player in 2015 to amass 55 blocks, 50 3-pointers, and 35 steals. Olaseni blocked 54 shots, which ranks 10th best in Iowa single-season history. The native of London, England, finished his career with 141 blocked shots, which ranks fourth in program history. Olaseni, who was voted Big Ten Sixth Man of the Year, posted single-season bests in scoring, free throw percentage, rebounding, assists, steals, and blocks as a senior.
Uhl (6-foot-8, 195 pounds) earned the team's Newcomer of the Year Award. The native of Frankfurt, Germany, played in 33 games for the Hawkeyes as a freshman. Uhl delivered timely baskets and rebounds, averaging 10 minutes per contest off the bench, throughout the 2014-15 season. The small forward scored a personal-best 11 points against Alcorn State in December.
Denning (6-foot-1, 165 pounds) completed his fourth season with the Hawkeyes. The Cedar Falls, Iowa, native played his first three years as a walk-on before earning a scholarship this past season. Denning helped the team in a variety of ways as a Hawkeye. He was the floor general for the scout team, and provided energy and enthusiasm every day.
2015 IOWA MEN'S BASKETBALL TEAM AWARDS
CHRIS STREET AWARD: Aaron White
TOP PLAYMAKER: Mike Gesell
NEWCOMER OF THE YEAR: Dom Uhl
DEFENSIVE PLAYER AWARD: Gabriel Olaseni and Jarrod Uthoff
MOST IMPROVED: Anthony Clemmons
BEST REBOUNDER: Aaron White
ACADEMIC AWARD: Mike Gesell
APPRECIATION AWARD: Kyle Denning