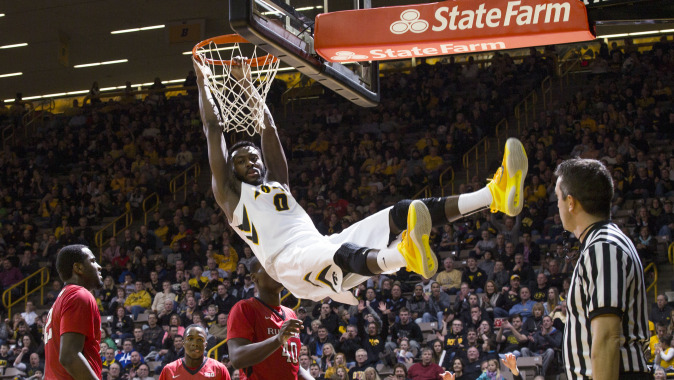 April 15, 2015
Editor's Note: The following first appeared in the University of Iowa's Hawk Talk Daily, an e-newsletter that offers a daily look at the Iowa Hawkeyes, delivered free each morning to thousands of fans of the Hawkeyes worldwide. To receive daily news from the Iowa Hawkeyes, sign up HERE.
By MATTHEW WEITZEL
hawkeyesports.com
IOWA CITY, Iowa — Life after college basketball began last weekend for University of Iowa senior Gabriel Olaseni.
The 2015 Big Ten Sixth Man of the Year traveled to the Portsmouth Invitational in Virginia for a four-day tournament in front of NBA scouts and representatives. The top 64 college basketball seniors were invited to participate in the event.
Olaseni competed in three games, averaging 7.6 points, 10.6 rebounds, and 3.6 blocks in 33 minutes per contest. His 3.6 blocks and 10.6 rebounds ranked first and second, respectively, among the NBA hopefuls. The London native was pleased with his performance.
"It was a great experience," said Olaseni. "I played against some of the best seniors in the country. I tried to fit in and show professional teams what I am capable of, and I think I did that."
UI head coach Fran McCaffery, who was in attendance, says Olaseni was instrumental in helping his team win their first game.
"He made two free throws that iced the game," said McCaffery. "He also got two of the biggest rebounds down the stretch."
Olaseni finished with 16 points, nine rebounds, and two blocks in game one. The 6-foot-10 center believes his efforts in the opening game gained his coach's trust for the remainder of the weekend.
"He said to play hard and I'll keep you in," Olaseni said. "I tried to sprint down the floor every time, block shots, rebound, and score around the rim. I also did a lot of little things as well — making the extra passes and disrupting the other team's rhythm. I made an impact, so that's why I played so many minutes."
Olaseni had eight rebounds, five blocks, and four points in game two and 15 rebounds, four blocks, three steals, and three points in his final game.
Off the court, Olaseni had an opportunity to speak with representatives from a handful of NBA teams, including the Sacramento Kings, Boston Celtics, and San Antonio Spurs.
"They wanted to get to know me and my history," said Olaseni. "This is a long process, but I'm going in the right direction."
Olaseni says the NBA representatives would like him to increase his weight, while maintaining his athleticism and quickness.
"I need to improve my strength," he said. "Adding 2-3 pounds every month the next couple months is doable, and I also want to refine my offensive skills. They understand that I may not be a consistent jump shooter, but because of my free throw percentage and technique, they know I'm a capable shooter. I'm at a good place."
Having McCaffery with him during the Portsmouth Invitational meant a lot to Olaseni.
"He was watching me play games, giving me pointers on things to improve between games, and talking to agents," Olaseni said. "He's the guy I trust. He has gone out of his way to make sure I choose the right agent."
Olaseni plans on signing with an agent later this week and is excited for the next chapter of his basketball career.