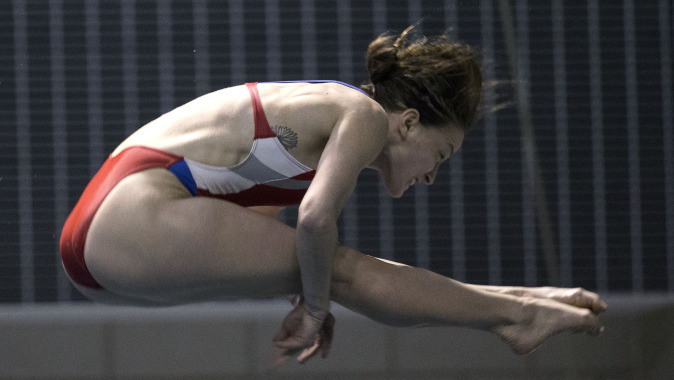 April 19, 2015
24 Hawkeyes to Watch

SAN JUAN, Puerto Rico — Former University of Iowa diver Deidre Freeman finished second in the women's synchronized 3-meter springboard finals Sunday afternoon to wrap competition at the 2015 Puerto Rico Fina Grand prix.

Freeman, a Grinnell, Iowa, native, dove alongside Indiana's Jessica Parratto for the second consecutive week. The duo posted a score of 272.40 to take the silver medal behind China's Wu Chunting and Qu Lin, who scored 305.40 points for gold.

Freeman and Parratto climbed out of a seventh-place hole following the opening two rounds. The American pair had a solid finish in their final three dives to climb back into contention. A 66.60 point 2 1/2 pike in the third round propelled their overall score into second. The two held on through the duration of the meet to finish second overall.

"I went out and was pretty relaxed because my stressful (optional) dives are my front and my inward, and today I didn't have to do them," said Freeman. "It's always fun doing synchronized diving because you get to share the experience with some else.

"Today was really windy but we got through it together. We were a little off on our front dive (in round two) due to the wind, but we came back and put three great optional dives together."

Freeman, a Grinnell, Iowa, native, also took part in the women's 3-meter individual event on Saturday and finished sixth overall (277.10). Minami Itahashi took first, posting a score of 297.60.