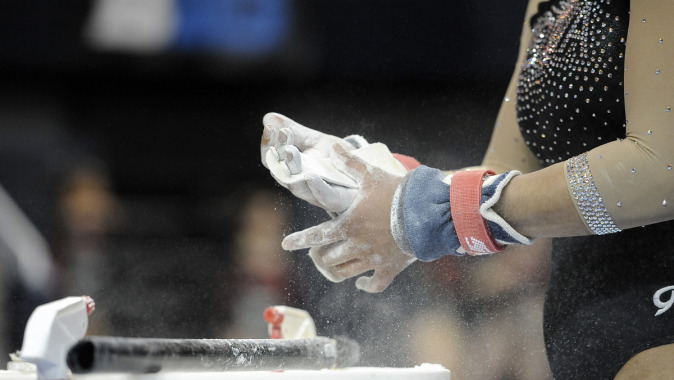 April 20, 2015
WGYM Notes

| 2015 Season Statistics

Read the April issue of Hawk Talk Monthly
2015 Media Guide
Download your Iowa Hawkeye iPad/iPhone app!
Download your Hawk Talk Monthly iOS app
Download your Hawk Talk Monthly android app
Big Ten Network: Free Hawkeye Video
24 Hawkeyes to Watch
NCAA REGIONAL:
The University of Iowa women's gymnastics team capped its season in NCAA Regional action at Auburn Arena in Auburn, Alabama, on April 4. It marked the program's seventh postseason berth in the last eight years.
Three senior GymHawks — Sydney Hoerr, Johanny Sotillo, and Caitlin Tanzer– ended their collegiate careers leading Iowa to a fifth place regional finish and a score of 194.475. Five GymHawks placed in the top 15 for individual events. Sophomore Mollie Drenth posted a score of 9.825 on bars, good enough to secure a ninth place finish. Sophomore Angel Metcalf and Sotillo both posted a 9.800 to tie for 12th.
Junior Alie Glover led the GymHawks on beam, posting a season high score of 9.875 and placing ninth overall. Hoerr and Sotillo both tallied a 9.850 to tie for 12th. Glover also paced the GymHawks on floor, placing 10th with a score of 9.800. Metcalf represented Iowa in the all-around, posting a 39.175 to finish fifth. Drenth finished eighth (39.050), while Hoerr took 13th (38.250) on the event.
BIG TEN CHAMPIONSHIP:
Iowa women's gymnastics posted a season high score of 196.500 at the Big Ten Championships on March 21. The Gymhawks finished first in the morning session and fifth overall — the team's best championship team result since 2010. Iowa's performance marked the highest team score for the program at the Big Ten Championships since March 20, 2004. Six conference teams entered the Big Ten Championships ranked in the GymInfo Top 25 poll; Michigan paced the conference at No. 6, followed by No. 10 Nebraska, No. 11 Penn State, No. 16 Illinois, No. 19 Minnesota and No. 24 Iowa. Despite the tough competition, five GymHawks tallied a total of 10 season best scores. Seven GymHawks also placed in the top 26 during the competition.
HOLDING STEADY IN THE RANKINGS:
Iowa was ranked in the top 25 for six consecutive weeks during the 2015 season. The GymHawks ended the season ranked No. 23 nationally, marking the program's first Top 25 ranking since 2012. There are 80 women's gymnastics teams in the nation. The GymHawks closed the season ranked 16th as a team on the uneven bars (49.175 average score) and 21st on beam (49.010).
FIVE GYMHAWKS NAMED TO ALL-CHAMPIONSHIP TEAM
Five GymHawks received individual conference awards following the Big Ten Championship. Sophomore Mollie Drenth, junior Alie Glover, senior Sydney Hoerr, and sophomore Angel Metcalf were all named to the All-Championship Team, while junior Opua Calucag collected the Sportsmanship Award. Iowa has only had one other gymnast named to the All-Championship Team (Emma Stevenson, 2012) in program history.
TOUGH COMPETITION, BIG WINS:
The GymHawks posted a season high score of 195.725 and collected a come-from-behind win over Mary- land on January 30. Iowa trailed its Big Ten foe until a season high team score on beam (49.025) moved the GymHawks into the lead. The GymHawks finished the competition with a solid performance on floor, clinching the win.
The GymHawks defeated Iowa State by a close margin on March 6. Iowa edged its in-state rival 195.775- 195.175 inside Carver-Hawkeye Arena at the team's home finale and Senior Night. Three senior GymHawks — Sydney Hoerr, Caitlin Tanzer, Johanny Sotillo– ended their careers on a high note and earned a total of five career bests on the night. The win marked the first time the Hawkeyes have topped the Cyclones since March 8, 2013.
Despite the stress from last minute schedule changes due to inclement weather, the GymHawks dominated in a tri-meet against No. 14 Minnesota and New Hampshire on February 28. Iowa managed to take the lead after the second rotation and held on to it for the win. It was Iowa's first win over the Golden Gophers since Feb 22, 2013.
Overall, the GymHawks collected eight conference wins this season against Minnesota (twice), Maryland (twice), Rutgers (twice), Michigan State, and Ohio State. Last season, the GymHawks collected a single conference win against Michigan State at the Big Ten Championships on March 22, 2014.
DRENTH NAMED BIG TEN SPECIALIST OF THE WEEK:
Sophomore Mollie Drenth earned the first Big Ten Event Specialist of the Week accolade of her career on March 16, 2015, after capturing an event title on bars (9.925) in Big Five meet competition. She recorded a win on beam for the Hawkeyes with a career best score of 9.900. In addition, Drenth finished eighth on floor with a 9.800 effort. The Riverview, Florida, native also helped Iowa post its season high team performance (196.425) and finish fourth. Drenth is the first to earn a weekly conference honor since Feb. 11, 2013, when Alie Glover was named Freshman of the Week.
HOERR TABBED SECOND TEAM ALL-BIG TEN:
Senior Sydney Hoerr was named Second Team All-Big Ten for the second year in a row, the conference office announced March 17. Twenty-three gymnasts were honored — 12 to the conference's first team and 11 to the second team. All-Big Ten selections are determined by regional qualifying scores. Hoerr has registered the top score for Iowa on floor this year with a 9.925 against Iowa State on March 6. She has competed in all 10 meets, appearing in the all-around nine times. Hoerr is nationally ranked in three events to lead Iowa, including 26th on floor (9.895), 46th in the all-around (39.075), and 65th on bars (9.845). The Bloomington, Illinois, native appeared on the Big Ten Gymnasts to Watch List in preseason and is also an Academic All-Big Ten honoree.
FOUR GYMHAWKS NAMED ACADEMIC ALL-BIG TEN:
Seniors Sydney Hoerr and Caitlin Tanzer, junior Opua Calucag, and sophomore Caroline McCrady were named Academic All-Big Ten honorees in 2015. Hoerr, a Bloomington, Illinois, native is a health and human physiology major. Tanzer is a business major from Naperville, Illinois, Calucag is a health and human physiology major from Southern Pasadena, California, and McCrady studies pre-business and is a native of Eagan, Minnesota.
METCALF, HOERR NAMED TO BIG TEN WATCH LIST:
Angel Metcalf and Sydney Hoerr were named to the 2015 Big Ten Gymnasts to Watch List in the preseason. Metcalf, one of six sophomores to make the list, hails from Swansboro, North Carolina. She captured her third all-around title in 2014 against No. 20 Ohio State on Feb. 14 in Iowa's annual Pink Meet. Metcalf improved her all-around score to 39.325. She previously posted a season best at Georgia (39.100). Metcalf received a bid to NCAA Regionals with five of her teammates in 2014 to compete in the all-around. She competed in 12 meets as a freshman, nine for the all-around title. Metcalf posted her best all-around score of 39.325 twice in 2014.
Hoerr, who was also featured on the 2014 Big Ten Watch List, is a senior from Bloomington, Illinois. The 2014 second team All-Big Ten honoree registered Iowa's individual season bests on the uneven bars (9.900 at Iowa State, March 7) and floor exercise (9.875 at Georgia, January 20). She competed in all 12 meets her junior season including NCAA Regionals, and competed in the all-around in seven competitions. Hoerr led Iowa on the bars with a regional qualifying score of 9.855, tying for 54th nationally. Hoerr was also an Academic All-Big Ten honoree in 2014.
HAWKEYE NEWCOMERS:
The Hawkeyes welcomed six newcomers — Ashley Fischer, Lanie Snyder, Melissa Zurawski, Nikki Youd, Jori Robertson, and Megan Ruzicka — to the 2015 squad.
Fischer competed in 9 of the 12 meets this season on vault. Her season best is a 9.825 that she tallied twice, once against Denver and BYU on February 21 and at the Auburn Regional on April 4.
Zurawski saw action in all 12 meets this season on bars, posting her season-best of 9.875 at the Big Five meet on March 14.
Youd competed on vault, beam, and floor in the seven meets before her injury this season. Her season best on vault was collected against LSU on January 9 (9.700), beam against Ball State and Michigan State on January 18 (9.800), and beam against Illinois on February 14 (9.775).
Iowa also welcomed new additions to the coaching staff. Assistant coach Jennifer Green came to Iowa after serving as an assistant coach at the University of Missouri for two years. Assistant coach Caleb Phillips returns to Iowa, where he previously served in the same capacity from 2008-13.
RETURNING ROSTER:
Iowa will welcome back 13 athletes for the 2015-16 season. Next year, the roster will consist of six sophomores, six juniors, and three seniors. The GymHawks had five seniors — Sydney Hoerr, Caitlin Tanzer, Johanny Sotillo, Jessica Morreale, Emma Willis– conclude their gymnastics careers this season and will graduate this May.
IOWA SELECTED TO HOST 2016 NCAA REGIONAL:
The University of Iowa and Carver-Hawkeye Arena have been selected to host a 2016 NCAA Regional (April 2, 2016) in women's gymnastics. Iowa last hosted an NCAA Regional in 2009.
PRACTICE FACILITY RENOVATION:
The women's gymnastics team is amidst a practice facility renovation. The gym — located inside the UI Field House — is scheduled to be completed in April 2015. The renovation will include new equipment, more space to train, and enhanced safety and resources for Hawkeye student-athletes.
FOLLOW THE HAWKEYES:
A member of the Iowa gymnastics staff will offer interactive Twitter content live at every event this season via @iowagymnastics. This feature gives Hawkeye fans the opportunity to stay up to date on the latest news and scores during every meet.
Web Address: hawkeyesports.com (check the schedule page for live stats and live streams)
Facebook: facebook.com/iowagymnastics
Twitter: twitter.com/iowagymnastics
YouTube: youtube.com/iowagymnastics
Live Stats: hawkeyesports.com