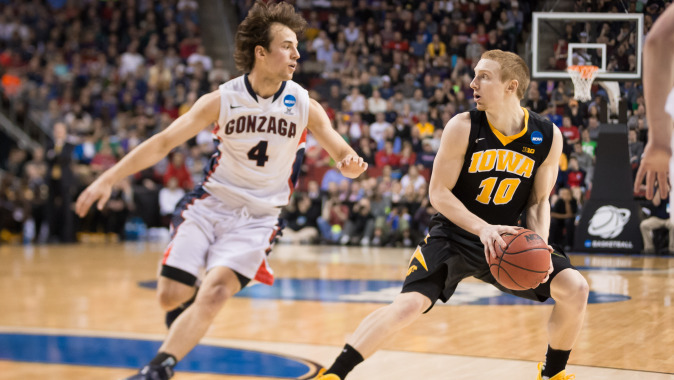 April 22, 2015
IOWA CITY, Iowa — The Big Ten and Big EAST conferences jointly announced Wednesday the pairings for the inaugural Gavitt Games, which will tip off on eight campus sites the first weekend of the college basketball season, Nov. 17-20.
The University of Iowa is scheduled to play Marquette Thursday, Nov. 19, at the BMO Harris Bradley Center in Milwaukee. The contest will be televised nationally on Fox Sports 1. The Golden Eagles posted a 13-19 overall record and tied for ninth in league play with a 4-14 record under first-year head coach Steve Wojciechowski. Marquette returns four letterwinners, including second-leading scorer Duane Wilson (11.9 ppg), and will welcome five freshmen to its squad.
"I think this event will be special," said UI head coach Fran McCaffery. "It's such a great idea to generate this kind of interest in early November to start the season. Playing on the road against an improved Marquette team from a year ago will be an early test for our basketball team."
The Hawkeyes return four starters from last year's squad that finished 22-12 overall and tied for third place in the Big Ten with a 12-6 conference record. Iowa returns second-leading scorer and rebounder Jarrod Uthoff (12.4 ppg and 6.4 rpg) and Mike Gesell, who led the team in assists (4.0 apg). The Black and Gold will also add six newcomers to its fall roster.
This will be the first meeting between the two schools since 1982 and the 18th overall meeting.
"Our family is excited about the Big Ten and BIG EAST launching this new series, which honors the memory of Dave Gavitt and his passion for college basketball," said Dan Gavitt, NCAA Vice President of Men's Basketball Championships. "He would be most pleased that the student-athletes, coaches and supporters of these historic college basketball programs can look forward to annual competition at the highest level to help open the college season with a bang. We are thankful to the two great conferences for recognizing the Gavitt legacy with the intra-conference games featuring new and old rivalries and intriguing match-ups."
The annual series will feature renewed battles between local foes and attractive intersectional matchups. Eight teams in the inaugural event advanced to the NCAA Tournament and won at least 20 games last season.
Tip times will be released at a later date. Below are the 2015 Gavitt Games match-ups.
Tuesday, Nov. 17
Georgetown at Maryland (BTN or an ESPN Network)
DePaul at Penn State (BTN or an ESPN Network)
Nebraska at Villanova (FS1)
Wednesday, Nov. 18
Illinois at Providence (FS1)
Thursday, Nov. 19
Creighton at Indiana (BTN or an ESPN Network)
Iowa at Marquette (FS1)
Rutgers at St. John's (FS1)
Friday, Nov. 20
Xavier at Michigan (BTN or an ESPN Network)