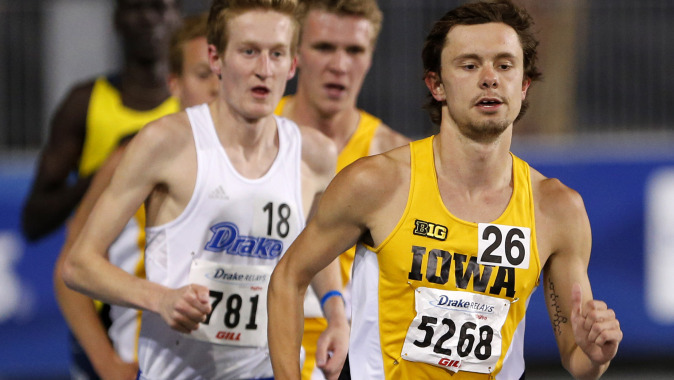 Photo Gallery

April 23, 2015
Final Results

DES MOINES, Iowa — The University of Iowa track and field team opened action at the Drake Relays in Des Moines, Iowa, on Thursday. The event was held at the Jim Duncan Track and the Johnny Bright Field. No team scores were tallied.
Ben Anderson highlighted the day for the Hawkeyes. The redshirt freshman shaved eight seconds off his 5,000-meter time, clocking a personal best 14:28.84 to finish 14th, respectively. Sophomore Daniel Huff (18th; 14:48.72) also competed for Iowa.
"It was a big step forward for Ben in his track career as a redshirt freshman," University of Iowa head coach Layne Anderson said. "With the relays, we were not able to keep ourselves in the race. It is essential to give each leg an opportunity to run a good split in a distance relay like the 4×1600."
The Hawkeyes made their first appearance on the Blue Oval with the women's 6,400-meter relay comprised of redshirt freshman Alana Jones, freshman Marta Bote Gonzalez, sophomore Tess Wilberding, and junior Anne Reischmann. The quartet clocked the seventh-fastest time in program history at 19:59.72 to claim ninth place, respectively.
The men's 6,400-meter relay of seniors Kevin Lewis and Ben Witt, sophomore Michael Hart, and redshirt junior Sam Fourman finished 11th, respectively, in 16:58.44. That time falls third on Iowa's all-time list.
The Hawkeyes resumes action at the Drake Relays on Friday with competition beginning at 8 a.m. (CT).