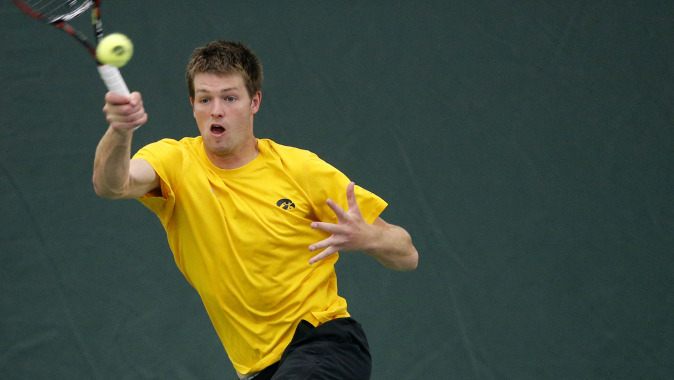 April 23, 2015
CHAMPAIGN, Ill. — The Big Ten Conference announced its men's tennis all-conference teams Thursday, which includes University of Iowa senior Matt Hagan on the 12-player first team. Hagan becomes Iowa's 18th honoree on the league's first team and first since Christian Bierich in 2009.
Hagan has played his best collegiate tennis as a senior. Playing as the team's No. 1 singles player, the native of Omaha, Nebraska, has totaled 16 singles wins, including nine this spring. Hagan climbed as high as 79th this spring in the national rankings and 31st in doubles with partner Dominic Patrick. The Hagan/Patrick duo won four consecutive doubles matches last November to capture the Big Ten Indoor Doubles title. In singles competition, Hagan became Iowa's third regional semifinalist and first since 1999 last fall.
The Big Ten also recognized 12 Sportsmanship Award honorees. The student-athletes chosen are individuals who have distinguished themselves through sportsmanship and ethical behavior. These student-athletes must also be in good academic standing and have demonstrated good citizenship outside of the sports-competition setting. Senior Andres Estenssoro was honored as the Hawkeyes' men's tennis sportsmanship honoree.
During Estenssoro's four years at Iowa, he has totaled 28 singles wins and 17 victories in doubles competition.
Hagan, Estenssoro and the Hawkeyes open Big Ten Tournament competition today as the eighth seed. Iowa will face ninth-seeded Wisconsin at 10 a.m. (CT) on the campus of the University of Illinois.