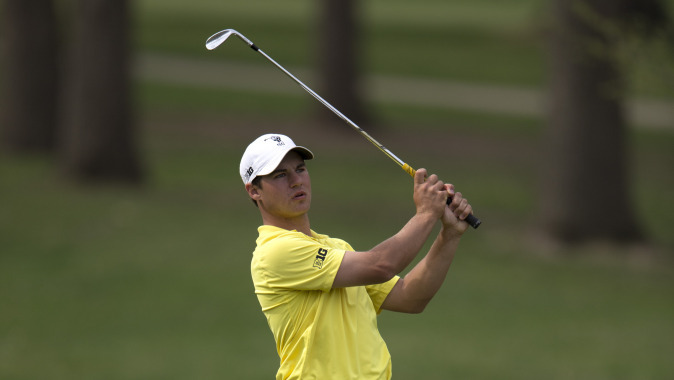 April 24, 2015
NEWBURGH, Ind. — Strong performances from sophomore Carson Schaake and senior Ian Vandersee on Friday have the University of Iowa men's golf team in second place after day one at the Big Ten Championships. The three-day, 72-hole event is being played at Victoria National Golf Club.
Due to darkness, play was called off midway through the second round and will resume Saturday morning. Iowa is currently in second place and is four strokes behind fourth-ranked Illinois. The Hawkeyes are nine strokes under par heading into the final holes of round two.
"I am proud of our effort today," said UI head coach Tyler Stith. "We fought hard for every shot."
Schaake and Vandersee paced the way for the Hawkeyes on Friday, continuing where they left off last weekend.
After recording a then career-low 66 on his way to a fourth place finish at the Hawkeye-Great River Entertainment Invitational last weekend, Schaake continued to fire on all cylinders Friday. The Omaha, Nebraska, native, fired a seven-under-par 65 in the first round and is currently two strokes under par through 14 holes in the second round, putting him in first place individually. Schaake's 14 birdies lead the 70-player field and his first round 65 is currently the lowest 18-hole score of the event.
Vandersee had a solid first day performance of his own. A native of West Des Moines, Iowa, Vandersee carded his lowest 18-hole score of the year, posting a five-under-par 67 in round one. Vandersee is currently one-over-par through 15 holes in the second round and is tied for third individually. Vandersee finished tied for seventh at last year's Big Ten Championships.
"Carson and Ian paced us in the morning with two brilliant rounds," said Stith.
Sophomore Raymond Knoll shot a one-over-par 73 in Friday mornings opening round before coming back strong in the afternoon. Knoll is two-under par through 16 holes in the second round. His second round performance vaulted him 10 spots on the individual leader board and into a tie for eighth place.
Senior Brian Bullington is currently tied for 34th individually. Bullington carded a first round 75 and is two strokes over par through 16 holes in round two.
Junior Nate Yankovich was the only Hawkeye to complete all 36 holes Friday, posting a three-over-par 75 in the first round and a 78 in the second to put him in a tie for 49th individually.
"I am pleased with our start and am really looking forward to tomorrow," said Stith.
Play at the Big Ten Championships resumes tomorrow with the conclusion of the second round beginning at 8 a.m. (CT). Round three will follow with tee times starting at 8:30 a.m. Live scoring is available at golfstat.com.