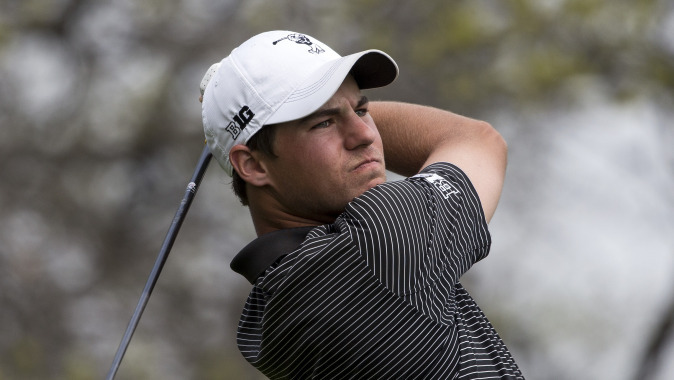 April 25, 2015
NEWBURGH, Ind. — The University of Iowa men's golf team is in third place of a 14-team field following the third round of play at the Big Ten Championships. The Hawkeyes posted a 14-over-par 309 on the third set of 18 holes at Victoria National Golf Club Saturday, putting them at 21 strokes over par as a team (878; 280, 289, 309).
With four individuals in the top-10, fourth-ranked Illinois leads the team race at 19-under-par (845; 284, 281, 280). Ohio State is in second at eight-over-par (877; 291, 293, 293).
"We struggled this morning in the restart and it carried over into the third round," said UI head coach Tyler Stith."We're still in third place and are playing in the final group tomorrow."
Sophomore Carson Schaake carded a career-best seven-under-par 65 in Friday's opening round before shooting a second round 70. He recorded a 76 in Saturday's third round and is currently in third place on the individual leader board at five-under-par, trailing tournament leader Nick Hardy of Illinois by three strokes.
Senior Ian Vandersee shot a six-over-par 78 in Saturday's third round after recording a season-best 67 in round one and a 74 in round two. Through 54 holes, Vandersee is in16th place individually.
Sophomore Raymond Knoll recorded rounds of 73, 71, and 79 to put him at seven strokes over par and into a tie for 25th place individually. Knoll has logged 36 pars through 54 holes, tying for the third most in the 70-player field.
Senior Brian Bullington registered a 76 in the Saturday's third round and is currently tied for 32nd place individually at nine-over-par 225. Bullington carded first and second round totals of 75 and 74. Junior Nate Yankovich is tied for 62nd place heading into Sunday's final round after posting rounds of 75, 78, and 84 (237; +21).
"Eleven other teams would be happy to be in our position," said Stith. "We are going to respond tomorrow and fight to win the day."
Play at the 2015 Big Ten Championships concludes with a fourth and final round of 18 holes on Sunday morning. Tee times begin at 8 a.m. (CT). Live scoring is available at golfstat.com.