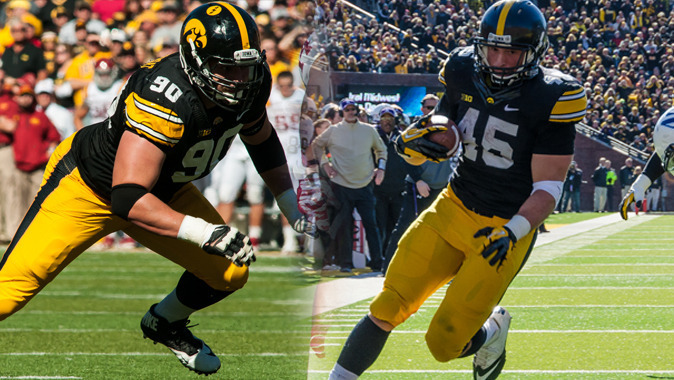 March 25, 2015
IOWA CITY, Iowa — Mark Weisman and Louis Trinca-Pasat, senior members of the 2014 University of Iowa football team, have been named to the National Football Foundation Hampshire Honor Society.
Now in its ninth year, the Hampshire Society recognizes senior football players who are starters or significant reserves, and carry a cumulative grade point average of 3.20 or higher (on a 4.0 scale) throughout their college career. The NFF recognized 817 players from a record 278 college football programs at all levels. The entire list can be found on the National Football Foundation website, http://www.footballfoundation.org.
Trinca-Pasat is a native of Chicago, Illinois. He carried a 3.2 GPA as an undergraduate and 3.61 GPA while pursuing a Master's Degree in Educational Policy and Leadership Studies. He is a three-time academic All-Big Ten honoree, and was named second team All-Big Ten by the coaches and media in 2014.
As a senior, Trinca-Pasat tied for 12th in the Big Ten in quarterback sacks (6.5), and tied for 17th in tackles for loss (11.5). His 69 tackles led all Big Ten lineman. He started all 38 games over his final three seasons, and in 2014 he was named Permanent Team Captain, Defensive MVP, and presented the Hayden Fry "Extra Heartbeat" Award.
Weisman, a native of Buffalo Grove, Illinois, holds a 3.32 grade-point average and is majoring in health and human physiology. He earned academic All-Big Ten recognition in 2012 and 2013, and is a three-time honoree on the UI Dean's List.
Weisman was Iowa's leading rusher for the third straight season in 2014. He rushed for 812 yards on 213 carries and scored 16 rushing touchdowns, the third highest single-season total in school history. Weisman's career totals include 599 attempts for 2,602 yards and 32 touchdowns. His 32 career rushing touchdowns rank third in school history.
The Hampshire Honor Society represents a powerful component in the NFF's rich history as an innovator in promoting the scholar-athlete ideal. Since its inception in 1959, the NFF's National Scholar-Athlete Awards program has awarded $10.7 million to 804 top scholars and community leaders.