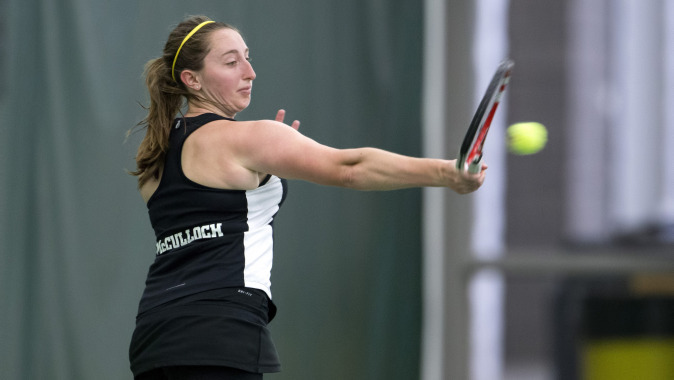 April 30, 2015
IOWA CITY, Iowa — Iowa women's tennis senior, Morven McCulloch, was honored Thursday with the Big Ten Sportsmanship Award. This is the second time McCulloch has been recognized, first capturing the award in 2012.
The Scotland native recorded 66 singles wins in her four years as a Hawkeye, consistently competing in the top half of the singles lineup. Her doubles career boasts similar success, as she collected a 78-49 record competing at the No. 1, No. 2, and No. 3 positions.
McCulloch is one of 14 Big Ten women's tennis student-athletes receiving the sportsmanship award. Others include Katie Klyczek (Indiana), Melissa Kopinski (Illinois), Alexandra Stanova (Maryland), Ronit Yurovsky (Michigan), Athena Trouillot (Michigan State), Caroline Ryba (Minnesota), Maggy Lehmicke (Nebraska), Erin Larner (Northwestern), Grainne O'Neill (Ohio State), Katia Blik (Penn State), Krisztina Kapitany (Purdue), Lindsay Balsamo (Rutgers), and Ekaterina Stepanova (Wisconsin).

?