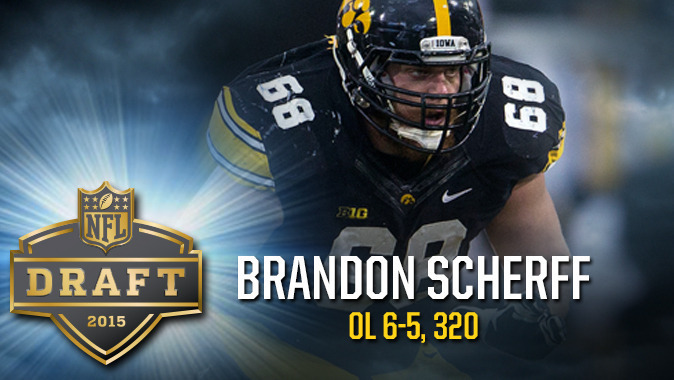 May 1, 2015
B. Scherff Photo Gallery

Editor's Note: The following first appeared in the University of Iowa's Hawk Talk Daily, an e-newsletter that offers a daily look at the Iowa Hawkeyes, delivered free each morning to thousands of fans of the Hawkeyes worldwide. To receive daily news from the Iowa Hawkeyes, sign up HERE.
By DARREN MILLER
hawkeyesports.com
CHICAGO — Moments after University of Iowa offensive lineman Brandon Scherff was selected fifth overall by Washington in last night's NFL Draft, one of the commentators referred to the pick as the first curveball of the draft.
That isn't a knock on Scherff, it's just that most mock drafts had him going to the New York Giants with the ninth pick or the St. Louis Rams at No. 10.
So much for mock drafts.
Scherff has never forgotten his Denison (Iowa) roots. He was a pitcher/first baseman for the Monarchs baseball team in high school, where he threw curve balls from the mound and knocked them out of the park at the plate.
"I handled curve balls pretty well," Scherff said from the lobby of The Palmer House Hilton.
This time it was Washington that hit a grand slam by picking the 2014 Outland Trophy winner and consensus All-American. And the Redskins' offensive line added a 2015 version of "The Hogs" — a flattering moniker for offensive linemen George Starke, Russ Grimm, Jeff Bostic, Mark May, and Joe Jacoby in the early 1980s.
If the Redskins threw a curveball, it was to the NFL teams selecting after them. Washington only spoke to Scherff at the NFL Combine from Feb. 17-23 in Indianapolis and not again until head coach Jay Gruden phoned him in the Green Room last night at Roosevelt University.
"They just said, I want you to be a Redskin, and I was like, absolutely, I would love that," Scherff said. "I talked to (offensive line coach Bill) Callahan, and he said he loves the way I play, and they can't wait to get me out there."
It ended a two-month communications hiatus between Washington and Iowa's behemoth lineman.
"We just talked about film, what my role is on each play, and just pretty much the background," Scherff said of his Combine interview with the Redskins. "They really didn't have me do any plays for them, they just had me draw up a couple plays for myself, and that was really it for them."
Meanwhile, Scherff was a frequent flyer to the state of New York, visiting both the Jets and the Giants.
Since Jameis Winston (choice No. 1 by Tampa Bay), Marcus Mariota (No. 2 by Tennessee), and Amari Cooper (No. 4 by Oakland) did not attend the draft, Scherff was the second draftee to step on stage for the obligatory grip-n-grin photograph with NFL Commissioner Roger Goodell. Preceding Scherff was Dante Fowler, Jr., of Florida, who went No. 3 to Jacksonville. Fowler sauntered on stage in a custom-made white suit and sparkling gold shoes.
Scherff wore a two-year-old suit he bought at Men's Wearhouse in Coralville.
Scherff will fly to Washington sometime today. Last season the Redskins finished 4-12 in the NFC East Division; the franchise won Super Bowls in 1983, 1988, and 1992. Scherff was born in 1991.
Scherff is the seventh first-round draft choice under UI head coach Kirk Ferentz and the third Hawkeye offensive lineman to go in the first round in the last six years. He is the fifth Iowa first-rounder in the last 10 years, which ties the Hawkeyes with Clemson, Georgia, Notre Dame, and Oregon.
What's next?
"Just be the best player you can be, get a starting job, and everybody wants to win the Super Bowl, so that's the next thing right there," Scherff said.
HAWKEYES DRAFTED DURING FERENTZ ERA
2015 NFL Draft
Round 1
Brandon Scherff
Washington
Offensive line
2014 NFL Draft
Round 3
C.J. Fiedorowicz
Houston
Tight end
Round 3
Christian Kirksey
Cleveland
Linebacker
Round 4
Anthony Hitchens
Dallas
Linebacker
2013 NFL Draft
Round 5
Micah Hyde
Green Bay
Defensive back
2012 NFL Draft
Round 1
Riley Reiff
Detroit
Offensive line
Round 4
Mike Daniels
Green Bay
Defensive line
Round 5
Adam Gettis
Washington
Offensive line
Round 5
Shaun Prater
Cincinnati
Defensive back
Round 6
Marvin McNutt
Philadelphia
Wide receiver
Round 7
Jordan Bernstine
Washington
Defensive back
2011 NFL Draft
Round 1
Adrian Clayborn
Tampa Bay
Defensive end
Round 4
Christian Ballard
Minnesota
Defensive line
Round 5
Ricky Stanzi
Kansas City
Quarterback
Round 5
Karl Klug
Tennessee
Defensive line
Round 5
Julian Vandervelde
Philadelphia
Offensive line
Round 6
Tyler Sash
New York Giants
Defensive back
2010 NFL Draft
Round 1
Bryan Bulaga
Green Bay
Offensive line
Round 2
Pat Angerer
Indianapolis
Linebacker
Round 3
Amari Spievey
Detroit
Defensive back
Round 3
Tony Moeaki
Kansas City
Tight end
Round 4
A.J. Edds
Miami
Linebacker
Round 7
Kyle Calloway
Buffalo
Offensive line
2009 NFL Draft
Round 3
Shonn Greene
New York Jets
Running back
Round 3
Bradley Fletcher
St. Louis
Defensive back
Round 4
Seth Olsen
Denver
Offensive line
Round 6
Brandon Myers
Oakland
Tight end
2008 NFL Draft
Round 3
Charles Godfrey
Carolina
Defensive back
Round 4
Kenny Iwebema
Arizona
Defensive end
Round 6
Mike Humpal
Pittsburgh
Linebacker
2007 NFL Draft
Round 3
Marshal Yanda
Baltimore
Offensive line
Round 4
Scott Chandler
San Diego
Tight end
Round 7
Mike Elgin
New England
Offensive line
2006 NFL Draft
Round 1
Chad Greenway
Minnesota
Linebacker
Round 3
Abdul Hodge
Green Bay
Linebacker
2005 NFL Draft
Round 2
Matt Roth
Miami
Defensive end
Round 2
Jonathan Babineaux
Atlanta
Defensive line
Round 4
Sean Considine
Philadelphia
Defensive back
Round 6
Tony Jackson
Seattle
Tight end
Round 6
Pete McMahon
Oakland
Offensive line
2004 NFL Draft
Round 1
Robert Gallery
Oakland
Offensive line
Round 2
Bob Sanders
Indianapolis
Defensive back
Round 3
Nate Kaeding
San Diego
Place kicker
Round 7
Jared Clauss
Tennessee
Defensive line
Round 7
Erik Jensen
St. Louis
Tight end
2003 NFL Draft
Round 1
Dallas Clark
Indianapolis
Tight end
Round 2
Eric Steinbach
Cincinnati
Offensive line
Round 2
Bruce Nelson
Carolina
Center
Round 5
Derek Pagel
New York Jets
Defensive back
Round 5
Ben Sobieski
Buffalo
Offensive line
2002 NFL Draft
Round 2
Ladell Betts
Washington
Running back
Round 5
Aaron Kampman
Green Bay
Defensive line
Round 6
Kahlil Hill
Atlanta
Wide receiver
2001 NFL Draft
Round 6
Kevin Kasper
Denver
Wide receiver
2000 NFL Draft
Round 5
Austin Wheatley
New Orleans
Tight end
Round 6
Matt Bowen
St. Louis
Defensive back