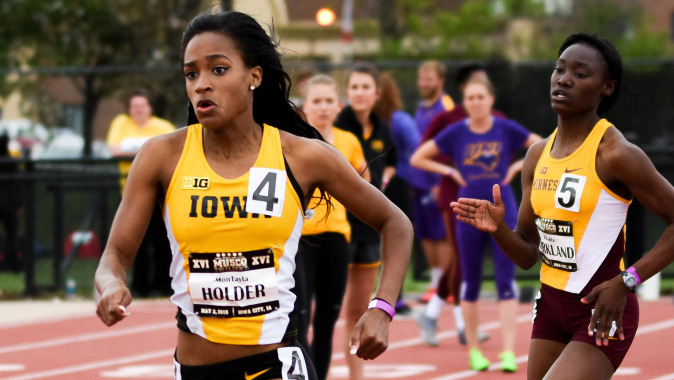 May 11, 2015
B1G Championships Notes

THIS WEEK
The University of Iowa track and field team heads to the Big Ten Championships in East Lansing, Michigan, this week. Competition begins Friday at noon (CT) with the multi-events and continues through Sunday. Ralph Young Field on the campus of Michigan State hosts the three-day event.
LIVE RESULTS
Live results will be available on the track and field schedule page on hawkeyesports.com. Follow @IowaXC_TF on Twitter for updates on the team throughout the weekend.
B1G T&F ON BTN
BTN will provide coverage of the Big Ten Men's and Women's Outdoor Track and Field Championships on Sunday, May 24, at 10 a.m. (CT).
B1G COMPETITION
The Big Ten features two nationally ranked men's teams and one nationally ranked women's team. The men's side includes Penn State (11) and Illinois (17), while Michigan State (12) is ranked on them women's side.
RETURNING POINT SCORERS
The Hawkeye men return seven point scorers from last year's championships. Juniors Kevin Spejcher (high jump), Sam Joens (javelin), and Klyvens Delaunay (triple jump), and senior Gabe Hull (discus) each grabbed second-place finishes. Senior Babatunde Amosu (triple jump) and sophomore Aaron Mallett (110-meter hurdles) posted a pair of sixth-place finishes, while senior Jack Eckert (8th) returns in the decathlon. On the women's side, sophomore Elexis Guster captured gold in the 400 meters, while sophomore Brittany Brown took home silver in the 200. Juniors MonTayla Holder (3rd/400-meter hurdles), Lake Kwaza (5th/200 meters) and Dakotah Goodell (5th/discus) also return.
SAUCER LEADS BIG TEN
Vinnie Saucer, Jr. made his way to the top of the Big Ten following his first-place finish in the men's 100 meters at Musco Twilight on May 2. The sophomore crossed the line in a personal best 10.41, which ties for ninth overall in school history. Saucer (21.02) will also compete in the 200 meters this weekend alongside junior James Harrington (20.98). The duo post the fourth- and fifth-fastest times in the conference, respectively.
GUSTER GOES FOR GOLD
Sophomore Elexis Guster returns as the defending Big Ten Champion in the women's 400 meters when she clocked a personal-best time of 52.77, which ranks fifth on Iowa's all-time list. She was the first Hawkeye to win the women's 400 meters since Kineke Alexander, the current school record holder (51.35), took the title in 2007 (52.15). Guster heads into the weekend with the second fastest time this season at 53.30.
400-METER RELAY STRONG
Both the men's and women's 400-meter relays return to the track as defending Big Ten champions. The Hawkeye men return senior Keith Brown and junior James Harrington to its winning relay from a year ago. The quartet of Brown, Harrington, Tevin-Cee Mincy, and sophomore O'Shea Wilson took the title at last year's championships in 39.35, a time that ranks second all-time at Iowa. Sophomores Vinnie Saucer, Jr. and Aaron Mallett, Harrington, and Brown clocked the fourth-fastest time in school history this season (39.66) at Musco Twilight on May 2. Their time stands second in the Big Ten. For the women, junior Lake Kwaza, sophomore Elexis Guster, junior MonTayla Holder, and sophomore Brittany Brown also look to defend their title. The quartet (Holder, Guster, Kwaza, Brown) clocked 44.93 this season at the Mt. SAC Relays on April 18, which ranks third in the Big Ten.
HULL EYES THE PRIZE
Senior Gabe Hull looks to add to his Big Ten medal count in the men's discus. The Bloomington, Indiana, native (188-08, 57.51m) recorded the second-farthest mark in the Big Ten this season at the Mt. SAC Relays on April 17. Hull has finished fifth or better in the past three conference championships, including a second-place finish at last year's event. He's the school record holder in the event at 207-01 (63.11m).
BROWN BREAKS 200-METER RECORD
Sophomore Brittany Brown first broke the 200-meter dash school record at the 2014 Big Ten Championships. The Upland, California, native posted 23.45 to oust Sheliene Williams' record (23.50) set in 2004. Brown improved her career best at the NCAA West Preliminaries, where she clocked 22.95 to become the first Hawkeye to ever run under 23 seconds. She returns this year with the conference's top time in the event at 23.14 and enters as the third-seed in the 100 meters with a collegiate best 11.47, which she recorded at Musco Twilight on May 2.
READY, SET, JUMP!
Iowa sends five jumpers into this weekend as a top-eight seed. They include: junior Klyvens Delaunay (1st/51-11.25, 15.83m) and senior Babatunde Amosu (5th/50-10.75, 15.51m) in the men's triple jump, freshman Jahisha Thomas (1st/20-02.25, 6.15m) and junior Kassidy Ellis (8th/19-06.25, 5.95m) in the women's long jump, and junior Kevin Spejcher (5th/7-0.25, 2.14m) in the men's high jump.
TROST CRACKS TOP 8
Sophomore Katharina Trost cracked the Big Ten leaderboard a second-place finish at Musco Twilight on May 2. The Piding, Germany, native posted a collegiate best 2:07.09, which moves her to eighth in the conference and fourth on Iowa's all-time list.
DYNAMIC DUO
Junior Lake Kwaza and sophomore Brittany Brown hold two of the top eight fastest times in the Big Ten in both the 100 and 200 meters. Kwaza is Iowa's school record holder in the 100, and Brown is Iowa's school record holder in the 200.
? 1st/Lake Kwaza/100 meters (11.40)
? 1st/Brittany Brown/200 meters (23.14)
? 3rd/Brittany Brown/100 meters (11.47)
? 7th/Lake Kwaza/200 meters (23.59)
NEXT ON THE BLOCK
The first round of the NCAA Championships is set for May 28-30 in Austin, Texas. For each individual event contested at the East and West NCAA sites, the top 48 declared student-athletes will be accepted into the competition. For each relay event contested at each of the Preliminary Championships Competition sites, the top 24 declared relay teams will be accepted into the competition