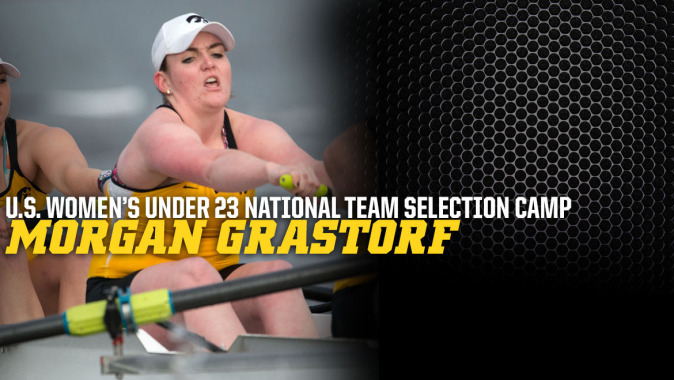 May 14, 2015
Read the May issue of Hawk Talk Monthly
Download your Iowa Hawkeye iPhone/ipad app!
Download your Iowa Hawkeye Android app!
Big Ten Network: Free Hawkeye Video
24 Hawkeyes to Watch
Download your Hawk Talk Monthly iOS app
Download your Hawk Talk Monthly android app
By MEGAN ROWLEY
IOWA CITY, Iowa — Sophomore Morgan Grastorf of the University of Iowa women's rowing team was invited to the 2015 U.S. Women's Under 23 National Team Selection Camp in Princeton, New Jersey, as announced by USRowing this week. Performances at the camp will determine selections for the women's eight, four, and quadruple scull crews that will compete on July 22-26 at the World Rowing Under 23 Championships in Plovdiv, Bulgaria.
"It's a big deal because I was invited to the freshman camp last year," the 2014 Pocock Second Team All-American said. "Now this is the real deal, and there is a lot of great competition. I'm nervous, excited, and ready to prove to myself and to others that I belong there.
"I know what to expect going into it. I know what needs to be done, so I feel prepared for the opportunity."
Twenty-five athletes were honored with an invitation, and Grastorf is one of six Big Ten athletes to be selected. Selection camp invitations are based on performance on the 2014-15 national team ergometer testing protocol, coach recommendations, past racing performances, competitive performances during training sessions, and the athlete's ability to match the style and technique of the crew as determined by the designated coach.
"It's fantastic for Morgan and it's fantastic for us as a program," second-year head coach Andrew Carter said. "It is another opportunity to have the Tigerhawk in people's faces, whether that's us as the University of Iowa winning races or it's Morgan in a national selection situation."
Grastorf has competed in all four regattas for the Hawkeyes this season, appearing in the third seat of the 1V8+ boat. Grastorf has helped the 1V8+ crew finish first against Big Ten foe Michigan State at the Big Ten Double Dual, first over Kansas and defending Big 12 Champions Oklahoma at the B1G/Big 12 Challenge, and a close third behind the historically strong Ivy League crews of Yale and Cornell at the Nordic Nine.
In her inaugural season, the Naperville, Illinois, native earned 2014 Pocock All-America Second Team and CRCA First Team All-Central Region honors. She was one of eight freshmen and one of 16 student-athletes invited to attend the 2014 USRowing Women's Pre-Elite Camp, which grooms up-and-coming rowers for the national teams.
"Watching her come out of the novice ranks and get this done twice in a row is impressive," Carter said. "She went in there as a strong, fit woman without a lot of technical prowess a year ago, but they invited her back. That's a great sign for her progress, and a good sign that we are doing it right at Iowa. We are preparing people for those systems.
"I really think we can have others in that mix. If we can get their confidence to a point where they can submit their name for selection, we can have others there too." Her national team experience is something that has inspired Hawkeyes on the roster to go for more and has affirmed that the UI rowing program has all the right stuff for top talent.
"It helps with recruiting because it's part of our overall message," Carter said. "You can come to the University of Iowa, and we have the ability, resources, and programming that will position you to be involved in that program if you have the skill set."
"Being under coach Carter and having him help me every step of the way has gotten me to where I am today," Grastorf said.
Grastorf and the Hawkeyes compete for the Big Ten Championship this weekend at Eagle Creek Park in Indianapolis, Indiana. The two-day regatta runs from May 16-17, and will be shown on the Big Ten Network on Sunday, May 24 at 5 p.m. (CT).