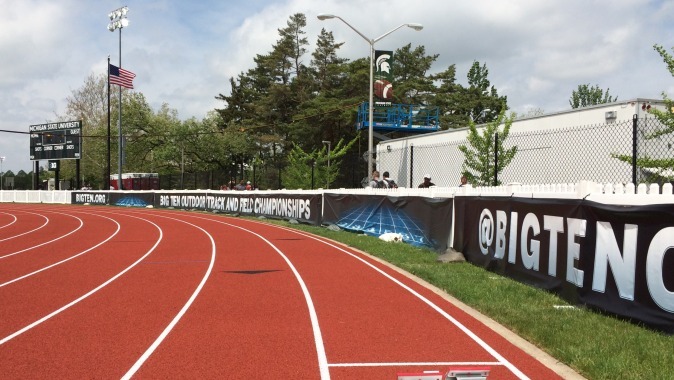 May 15, 2015
B1G Final Results

EAST LANSING, Michigan — The University of Iowa track and field team captured three gold medals on the final day of the 2015 Big Ten Outdoor Track and Field Championships in East Lansing, Michigan.
Sophomore Aaron Mallett, sophomore Elexis Guster, and senior Babatunde Amosu won Big Ten titles for the Hawkeyes.
Mallett set a school record in the 110-meter hurdles (13.43), Guster set a personal-best in the 400 meters (52.19), and Amosu won gold in the triple jump (53-0, 16.15m) for the third time at the conference championships.
Iowa won 10 medals on the final day, including four silvers and three bronze. The Hawkeye men reached the medal stand eight times this weekend and finished third with 81 team points. It's their highest finish since winning the 2011 conference championship, and the fifth time in six seasons they've placed top five. The women won four medals and finished eighth with 52 points.
Illinois won the men's title, and Michigan State defended its home track with a women's championship.
"I'm really proud of all the guys for stepping up," said UI director of track and field Joey Woody. "It came down to believing that they can do this. I'm just really proud of where we're at right now and I know we have a lot more in the future."
Mallett won his first conference outdoor title, claiming the men's 110-meter hurdles championship in a school-record 13.43.
"I'm ecstatic," said Mallett. "It's one thing to be a Big Ten champion, but I was really thrilled to put points on the board for my team."
Mallett is just the second Hawkeye in program history to win a conference title in the 110-meter hurdles. Pat McGhee, the previous school record holder (13.50), last did it in 1989.
"I've been going after that record since running 13.60 at the Florida Relays," added Mallett. "To be able to do it at a time like this against this field is a real blessing."
Guster grabbed Iowa's second title of the day when she clocked a personal-best 52.19 to defend her 400 meters championship.
"I was a little nervous because I had the slowest prelim time coming in," said Guster, who is the first Hawkeye since Shellene Williams in 2003 and 2004 to win consecutive conference titles in the 400 meters. "I told myself to fight, because even if I get third, as long as you're fighting you can't disappoint."
Guster's new personal best ranks third in school history.
"Elexis ran one of the best races I've ever seen," said Woody. "She is just determined. She just has that mindset that no one else is going to beat her."
Amosu and junior Klyvens Delaunay totaled 16 points for Iowa in the triple jump. Amosu, a two-time Big Ten indoor champion, won the outdoor title for the first time in his career. Delaunay placed third in the triple jump one day after earning sixth in the long jump.
"This is one of the greatest moments of my life," said Amosu. "I always wanted to win an outdoor title, and it's great to be able to do it in my final year.
"I'm also extremely proud of my teammates. Klyvens is a tremendous performer and he fought selflessly out here this week. It's all very special."
Sophomore Brittany Brown placed second and set a school record (22.89) in the 200 meters, and Vinnie Saucer placed second in the 100 meters in 10.31, a time that ties for third in school history.
"That was the best I've seen Brittany run the first 150," Woody said. "She is really putting some great things together at a good time of the year. She hit a school record. You can't ask for more than that."
The men's and women's 400-meter relays, both defending Big Ten champions, placed runner-up in their respective title defense. Junior Lake Kwaza, Guster, junior MonTayla Holder, and Brown finished in a season-best 44.71. Saucer, Mallett, junior James Harrington, and senior Keith Brown placed second in 40.10.
Junior Will Teubel earned his first conference medal with a third place finish (1:48.90) in the 800 meters. The Hawkeyes closed the meet with a bronze medal performance in the 1,600-meter relay.
"That relay says it all," Woody said of the bronze medal effort from junior Mitch Wolff, Mallett, junior Brendan Thompson, and senior Brennan Davey. "Watching a senior anchor a leg like that is just unbelievable. Brennan Davey, it is his first Big Ten medal ever, and to be able to do it like that, it went down to just having that heart and helping this team finish top three. It is a huge thing for our program at this point."
Brittany Brown, Kwaza, Holder and Wolff added top five individual performances. Brown (11.52) and Kwaza (11.56) placed fourth and fifth, respectively, in the 100 meters. Holder finished fourth in women's 400-meter hurdles (58.55), and Wolff placed fifth in the men's 400-meter hurdles (52.27).
The Hawkeyes return to action May 28-30 at the NCAA Championships in Austin, Texas. The complete qualifying field is expected to be announced Thursday, May 21.