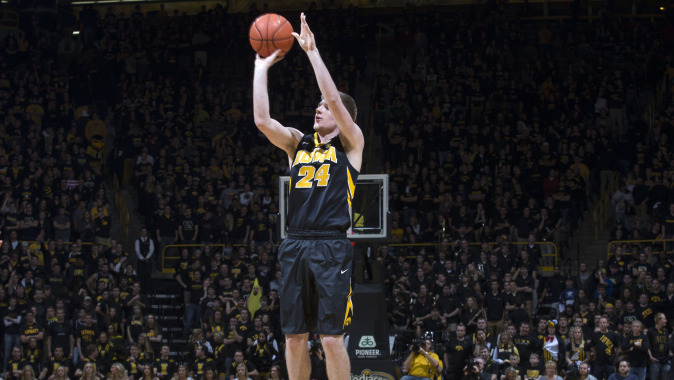 May 23, 2015
Editor's Note: The following first appeared in the University of Iowa's Hawk Talk Daily, an e-newsletter that offers a daily look at the Iowa Hawkeyes, delivered free each morning to thousands of fans of the Hawkeyes worldwide. To receive daily news from the Iowa Hawkeyes, sign up HERE.
IOWA CITY, Iowa — University of Iowa men's basketball guard Brady Ellingson is eager to return to the court.
After being plagued by an injury for most of his freshman season, Ellingson remained positive throughout the season and is looking forward to summer workouts with his teammates for the first time.
"It's unfortunate that Brady had to go through his injury situation this past year," said UI assistant coach Kirk Speraw.
Ellingson missed 2014 summer and preseason workouts before attempting a return in November. He saw a handful of minutes in seven nonconference games before it was decided to hold him out of games and apply for a medical redshirt.
"It was great being able to watch my teammates execute and accomplish the things they did because I know how hard they worked," said Ellingson. "I was excited for them and tried to bring as much energy as I could on the bench."
Although his playing time was limited, Ellingson got to experience a full season of what it takes to prepare for a game in the Big Ten, which he believes will pay dividends next season.
"I didn't know what to expect coming in with all the game preparations and film we watch," said Ellingson. "I have a better feel for the offense now and know what kind of work ethic is needed to be effective."
Ellingson is thankful to have been teammates and observe how the four seniors (Kyle Denning, Gabriel Olaseni, Josh Oglesby, and Aaron White) handled themselves.
"I appreciated their professional approach to the game," said Ellingson. "Whether it was eating right, stretching, getting up extra shots… their hard work paid off."
Now healthy, Ellingson believes he is a better player than a year ago.
"By getting in extra lifting sessions, I improved my strength," Ellingson said. "Going up against Peter (Jok) and Jarrod (Uthoff) every day made me a better defender and made me work harder on defense, and with them guarding me, it also improved my offensive game."
Ellingson attempted only eight shots last season, making four. Not only is he a natural shooter, but Speraw likes his overall game.
"He has tremendous touch, but beyond that, he has great instincts for the game of basketball," said Speraw. "He has a good feel for the game. He's going to be a good player for us."
Ellingson is "chomping at the bit" to get back in the gym this summer.
"I can't wait to see how much I can push myself and how much better I can get," he said. "I want to improve my defense, ball-handling, and be more athletic."