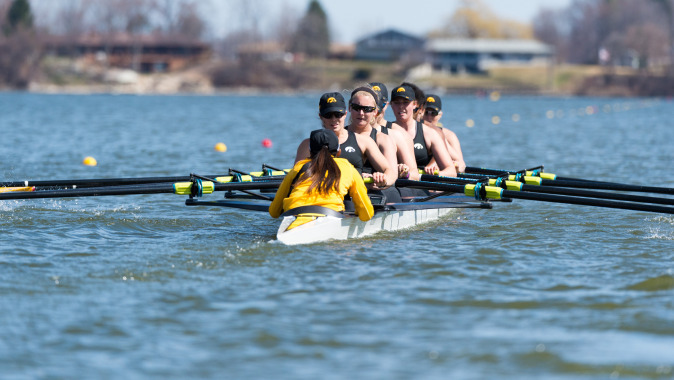 May 29, 2015

Read the May issue of Hawk Talk Monthly
Download your Iowa Hawkeye iPhone/ipad app!
Download your Iowa Hawkeye Android app!
Big Ten Network: Free Hawkeye Video
24 Hawkeyes to Watch
Download your Hawk Talk Monthly iOS app
Download your Hawk Talk Monthly android app
IOWA CITY, Iowa — Eight members of the University of Iowa rowing team earned Collegiate Rowing Coaches Association (CRCA) recognition on Thursday.
Sophomore Morgan Grastorf — who was recently invited to attend the U.S. Women's Under 23 National Team Selection Camp — tabbed her second consecutive first team All-Central Region honor. All-Region candidates are evaluated on the strength of their team's regional finish, coach recommendations and 2,000-meter erg score. Grastorf is the seventh Hawkeye rower to earn a regional award since 2008 and one of three to receive multiple honors.
The honor allows Grastorf to be eligible for All-America awards selection after the completion of the NCAA Rowing Championships, which run from May 29-21 in Gold River, California. Iowa rowing has had two All-Americans in program history; Katy Kroll (2013 Pocock second team All-America) and Jessica Novack (2010 Pocock second team All-American). Kroll was a senior and Novack was a junior.
Sophomores Victoria Bricker (Health & Human Physiology), Ellen Cranberg (English), juniors Madeline Anglin (Nursing), Katie Brown (Psychology), and seniors Destinee Gwee (Biochemistry), Gabrielle Watson (Speech and Hearing Science), and Hannah Hawks (Journalism & Mass Communication) were named CRCA Scholar Athletes. To qualify for the honor student-athletes must have a 3.5 cumulative GPA or higher, raced in 75 percent of Iowa's races, and were in their second, third or fourth year of eligibility. Anglin, Brown, and Gwee were also honored as scholar athletes in 2014, while Watson receives the third honor of her career (2013-15).
Seven scholar athlete selections is the highest total for Iowa since the Hawkeyes had six in 2010. Iowa had its highest total of nine honorees in 2009.