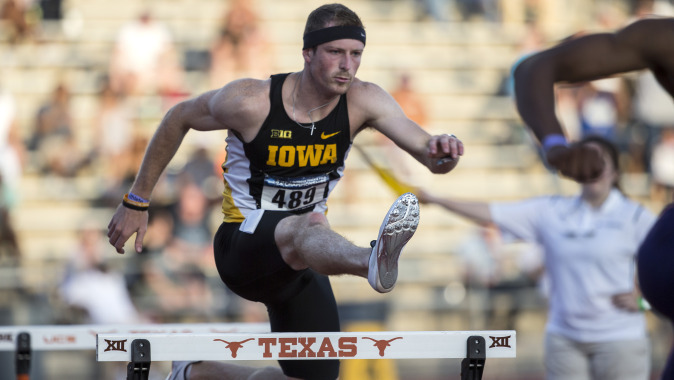 May 29, 2015
Photo Gallery

AUSTIN, Texas — University of Iowa sophomore Elexis Guster and junior Mitch Wolff advanced to the NCAA final site following qualifying performances Friday at the West Regional of the 2015 NCAA Outdoor Track and Field Championships.
Guster placed eighth in the 400 meters in 52.30 and Wolff hit a personal best 51.10 in the 400-meter hurdles to grab the 12th and final qualifying spot. It is the first individual NCAA finals appearance for both Hawkeyes.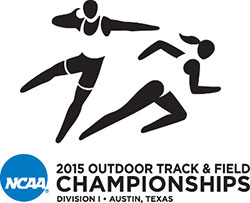 "I knew how bad I wanted to go because I didn't make the finals last year," said Guster. "I kept pumping my arms and made sure I was giving it my all."
Wolff's performance ranks 10th in school history. Both athletes advance to compete at the NCAA semifinals in Eugene, Oregon, on June 10-13.
"I am extremely proud of Elexis and Mitch for advancing to the NCAA finals," said UI director of track and field Joey Woody. "This is their first time qualifying as individuals, which means they are among the top 24 in the country and one step closer to becoming All-Americans.
"They both compete in relays tomorrow, and this gives them a lot of momentum and a huge boost as they help their relays advance to Eugene."
Three more Hawkeyes advanced to the NCAA quarterfinals following Friday's first round events. Lake Kwaza (15th/23.43) and Brittany Brown (18th/23.51) will compete in Saturday's 200 meter quarterfinals at 7:35 p.m. (CT), and Aaron Mallett placed third in the 110-meter hurdles (13.57) to advance to the quarterfinals Saturday at 7:20 p.m.
"I was just trying to make the quarterfinals," said Mallet. "I could come in third and still be happy because I just want to make the quarterfinals. When they come I'll put my best step out there."
Kwaza's mark is a new personal best (23.43) and ranks second all-time in program history behind Brown (22.89). The duo also ranks 1-2 all-time in the 100 meters (Kwaza/Brown).
"Tomorrow is a very exciting day for our team," Woody said. "We still have a large group of athletes looking to punch their ticket to the finals. Mallett ran a very controlled race today for his second fastest time ever. Lake ran a great PR and Brittany looked very comfortable in her heat."
The women's 400-meter relay is the first team on the track Saturday at 6 p.m. The men's 400-meter relay follows at 6:15 p.m.
The Hawkeyes have five competitors in Saturday's field events, including Sam Joens in the men's javelin (12 p.m.), Dakotah Goodell and Kayla Hochhalter in the women's javelin (5 p.m.), and Babatunde Amosu and Klyvens Delaunay in the men's triple jump (6 p.m.).
The final event of the West Regional is the men's 1,600-meter relay (9:45 p.m.).
"I'm looking forward to javelin," added Woody. "All of our javelin throwers hit personal bests at the Big Ten meet and have looked great the last two weeks. Our relays also have a great opportunity to advance to Eugene."
Day 2 Results

Iowa Day 2 Results
110-meter hurdles prelims
3. Aaron Mallet, 13.57 Q
400 meters quarters
8. Elexis Guster, 52.30 q
100 meters quarters
20. Lake Kwaza, 11.50
100 meters quarters
21. Vinnie Saucer, Jr., 10.36
800 meters quarters
24. Will Teubel, 1:54.44
400-meter hurdles quarters
13. MonTayla Holder, 59.01
400-meter quarters
12. Mitch Wolff, 51.10 q
200 meters prelims
15. Lake Kwaza, 23.43 q
18. Brittany Brown, 23.51 q
200 meters prelims
28. Vinnie Saucer, Jr., 21.19
44. James Harrington, 21.84
3,000-meter steeplechase quarters
41. Marta Bote Gonzalez, 10:53.14