May 30, 2015
Friday Photo Gallery

Editor's Note: The following first appeared in the University of Iowa's Hawk Talk Daily, an e-newsletter that offers a daily look at the Iowa Hawkeyes, delivered free each morning to thousands of fans of the Hawkeyes worldwide. To receive daily news from the Iowa Hawkeyes, sign up HERE.
By DARREN MILLER
hawkeyesports.com
AUSTIN, Texas — Elexis Guster has won back-to-back Big Ten Conference titles in the 400-meter dash, but the memory of missing out on last year's NCAA Finals in that event has driven her all season.
On Friday she earned redemption by running 52.30 seconds in a quarterfinal of the NCAA West Preliminary at Mike A. Myers Stadium and grabbing the first of three at-large bids to Eugene, Oregon. Guster's time was faster than two of the automatic qualifiers from the second and third heats.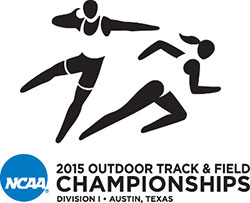 "I knew how bad I wanted to go last year to Eugene, so I kept pumping my arms and made sure I gave it my all," Guster said.
The sophomore from Atlanta used a strong kick down the stretch to place fourth in the first of three heats, won by Kendall Baisden of Texas with the fastest qualifying time of 51.31.
Guster waited and waited before her fate was revealed.
"Nerve-wracking" is how she described watching the final two heats, won by Taylor Ellis-Watson of Arkansas (51.52) and Ashley Spencer of Texas (51.88).
As a freshman in 2014, Guster did not make it out of the first round in the 400 dash after running 53.57 and missing the quarterfinals by 0.05 seconds. That setback was motivation throughout her second season at the UI, especially Friday. Guster was the second Hawkeye on the track in Day 2 of the NCAA West Preliminary, 30 minutes after sophomore Aaron Mallett advanced to a quarterfinal in the men's 110-meter high hurdles in 13.57 seconds.
Not only does Guster enjoy running early in the day, but she also proclaimed herself a better "second day" runner. Guster flashed a wry smile after clocking 53.20 on Thursday and advancing out of the first round.
"I knew how bad I wanted it and how bad that feeling was last year," Guster said. "I was going to make sure I advanced to the (NCAA) Finals.
"I'm a better second-day runner and it usually takes me a little time to warm up. I knew I was going to run a lot faster than yesterday. During the first round (Thursday), I was focusing on advancing to the quarterfinal and that happened. Today I knew I had to give it my all."
Even though Guster had to wait and watch the final two heat races, she was at peace with the outcome.
"I gave it my all so I can't be disappointed," she said.
In the end there was no disappointment. Guster became the first Hawkeye to qualify for Eugene, a feat that was matched later in the evening by sophomore Mitch Wolff in the 400-meter hurdles. Wolff ran a personal best 51.10.
Despite the frustration in the 400 a year ago, Guster finished her rookie season on a high note. She was a member of the Hawkeye 4×100 relay that moved on from the Fayetteville, Arkansas, regional and finished 16th at the NCAA Finals, making her a second team All-American. The same quartet will open running events for the Hawkeyes on Saturday at 6 p.m. (CT).
First up for Iowa in the field is junior Sam Joens, who is in the second flight of the men's javelin that begins at noon.