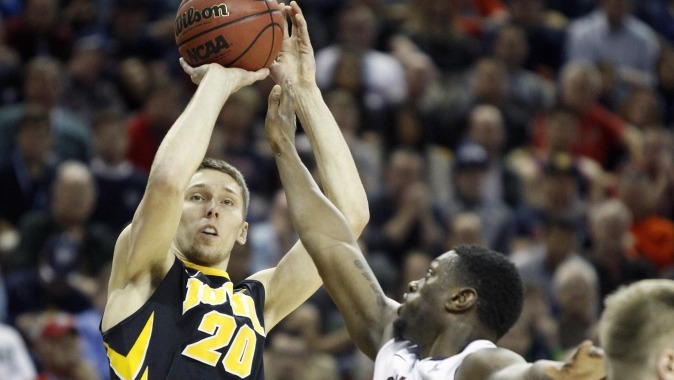 June 4, 2015
IOWA CITY, Iowa — University of Iowa senior Jarrod Uthoff has been selected to participate in the inaugural 2015 Nike Basketball Academy, June 26-30, at the Santa Monica Hangar in Santa Monica, California.
According to the invitation, the Nike Basketball Academy will bring together some of top NBA talent including LeBron James, Kevin Durant, Kyrie Irving, and Anthony Davis to help the college athletes enhance their basketball skills in this elite camp.
Since 2007, Nike Basketball has hosted the best high school and collegiate players for position skills academies, along with top athletes in the NBA. Last year's skills academies featured many of the top prospects for this year's NBA Draft, including the Hawkeyes' Aaron White.
Uthoff (6-foot-9, 210 pounds) was a third-team All-Big Ten honoree, along with earning Academic All-District and all-conference last season as a junior. The native of Cedar Rapids, Iowa, started all 34 games, ranking second in scoring (12.4), rebounding (6.4), steals (1.1), and blocks (1.6), and first in 3-pointers made (54), in helping lead Iowa to a third place Big Ten finish and advance to the NCAA Tournament Third Round. The forward was the only Division I player to amass 55 blocks, 50+ 3-pointers, and 35+ steals.