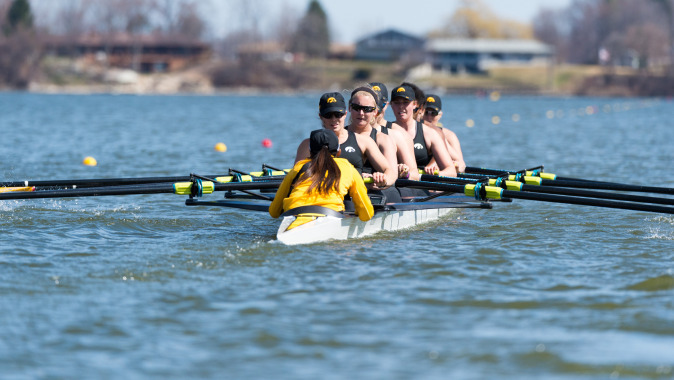 June 16, 2015
Read the May issue of Hawk Talk Monthly
Download your Iowa Hawkeye iPhone/ipad app!
Download your Iowa Hawkeye Android app!
Big Ten Network: Free Hawkeye Video
24 Hawkeyes to Watch Download your Hawk Talk Monthly iOS app
Download your Hawk Talk Monthly android app
By MEGAN ROWLEY
IOWA CITY, Iowa — Two University of Iowa rowers received elite invitations to national rowing camps and will have the opportunity to put the Hawkeyes on the map in the summer months. Sophomore Morgan Grastorf and freshman Gemma Kerr were selected to attend the 2015 U.S. Women's Under 23 National Team Selection Camp and the 2015 Junior Canadian National Team Selection Camp, respectively.
"It's fantastic for them and it's fantastic for us as a program," second-year head coach Andrew Carter said. "It is another opportunity to have the Tigerhawk in people's faces, whether that's us as the University of Iowa winning races or it's them in a national selection situation.
"Watching (Morgan) come out of the novice ranks and get this done twice in a row is impressive. She went in there as a strong, fit woman without a lot of technical prowess a year ago, but they invited her back. That's a great sign for her progress, and a good sign that we are doing it right at Iowa. We are preparing people for those systems.
Last year after her inaugural rowing season, Grastorf was invited to attend the 2014 USRowing Women's Pre-Elite Camp.
"It's a big deal because I was invited to the freshman camp last year," said Grastorf. "Now this is the real deal, and there is a lot of great competition. I'm nervous, excited, and ready to prove to myself and to others that I belong there.
"I know what to expect going into it. I know what needs to be done, so I feel prepared for the opportunity."
Kerr — a member of the 2V8+ crew — will begin trials to earn a spot on the 2015 Junior Canadian National Team on June 8th to the 11th in Welland, Ontario. The trials determine those athletes with appropriate speed to proceed with the next steps of selection to either the World Championships or CanAMex Regatta teams.
"I couldn't be more pleased with Gemma's progress in her first year with us here at Iowa," said Carter. "The progress in her fitness and technical ability has been phenomenal and, as we've kept her in communication with Rowing Canada Aviron (RCA), she's been able to rise to the top of their junior monitoring program. The quality of her work over the past year has really earned her an opportunity to trial for the Canadian Junior Team.
"Interestingly, the connection has been made with incoming Hawkeye, Hannah Bristowe, who will also be involved in the RCA selection process. Gemma and Hannah will race in a pair (2-) together in the coming trials so Iowa will be well represented.
Since the arrival of Carter, Iowa has seen an increase of national opportunities, which shows the program is steadily improving and heading in the right direction. He believes that many more Hawkeye rowers have the ability to receive these invitations and foresees a continued presence at national camps for his program.
"I really think we can have others in that mix. If we can get their confidence to a point where they can submit their name for selection, we can have others there too," said Carter.