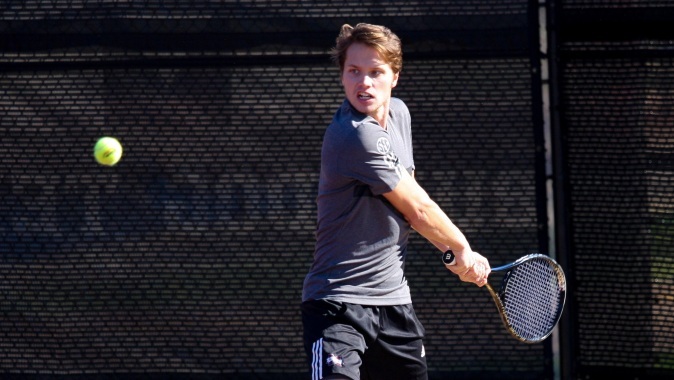 June 19, 2015
IOWA CITY — Kareem Allaf and Robin Haden, have signed National Letters of Intent with the University of Iowa men's tennis program, head coach Ross Wilson announced Friday. Allaf and Haden join Jonas Larsen (Koege, Denmark) and Tony Leto (Downers Grove, Illinois) in Iowa's incoming recruiting class thus far.
Allaf, who attends K12 International Academy, won the International Tennis Federation Championship in Dubai in October of 2014 in singles. The Abu Dhabi native made six other ITF singles finals appearances, and represented Syria in the Davis Cup in 2015 and in the Asian Youth Olympics in 2013. In doubles, Allaf has won six ITF championships and made nine others. He is currently ranked 195th on the 2015 ITF junior tour and has reached as high as 182nd. He reached the quarterfinals of the ITF Future in Lebanon, and received his first three ATP points in Lebanon by defeating a top-500 opponent.
"I am excited to join Iowa. It is a very big program with a rising team," said Allaf. "I want to achieve big things at Iowa and help the team as much as possible to improve. Coming here is definitely going to be a new milestone. I am grateful to have a chance to represent the Hawkeyes."
Haden, a transfer from Mississippi State, attended Akademi Bastad Gymnasium before playing for the Bulldog program. He will have two years of eligibility at Iowa. Haden climbed as high as 1553rd in the ATP rankings as a prep, and was the runner-up in the under-21 Swedish National Championships in 2013.
At Mississippi State last season, Haden posted a 10-8 singles record and a 16-8 doubles record. He defeated LSU's 82nd-ranked Jordan Diagle in singles. In doubles, he earned wins over No. 39 Auburn, No. 7 Texas A&M and No. 13 Ole Miss.
"I am super excited about coming to Iowa because of the great mixture of academics and athletics. I am also happy to play with Nils Hallestrand, who is one of my best friends," said Haden.
"Kareem is excited to come back to Iowa and add to the depth of our team," said Wilson. "He has a lot of experience playing internationally and in the Davis Cup. Robin will add a lot of experience coming from Mississippi State, which was a top-20 team last season. He will contribute right away in singles and doubles and add leadership to our young team."