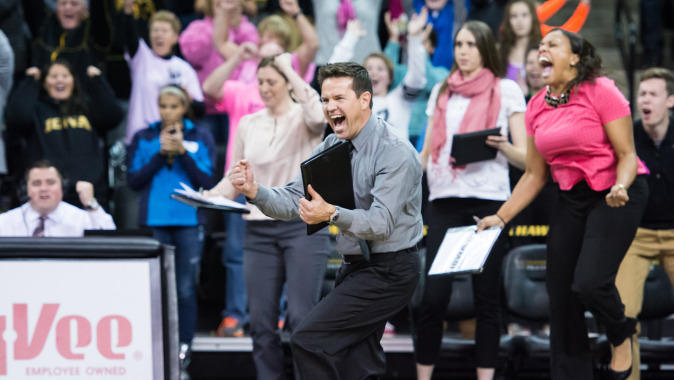 June 22, 2015
Editor's Note: The following first appeared in the University of Iowa's Hawk Talk Daily, an e-newsletter that offers a daily look at the Iowa Hawkeyes, delivered free each morning to thousands of fans of the Hawkeyes worldwide. To receive daily news from the Iowa Hawkeyes, sign up HERE.
BY MEGAN ROWLEY
IOWA CITY, Iowa — University of Iowa graduate and Iowa City native Bond Shymansky sparked a fire under the Hawkeye volleyball program in his first year as head coach in 2014.
Shymansky guided the Hawkeyes to a 14-17 overall record and a 6-14 mark in Big Ten Conference action. The program's six conference victories were the most for the program since 2008.
The Hawkeyes put together a four-match win streak in Big Ten play, defeating Maryland (3-0), Rutgers (3-1), Indiana (3-2) and No. 12 Purdue (3-1). It is the longest conference win streak for the program in 20 years, and the win against the Boilermakers marked the Iowa's first win over a ranked opponent since 2012.
Under Shymansky, seniors Alessandra Dietz and Alex Lovell wrote their names in the Iowa volleyball record book in their final season. Dietz broke Jen Barcus' eight-year career hitting percentage record (.276), finishing with a .278 hitting percentage. She also broke the program's five-year single-match hitting percentage record, hitting .882 with 15 kills in Iowa's 3-0 win at South Dakota State. Lovell closed her career ninth all-time with 1,279 kills, and earned the team's Big Ten Sportsmanship Award.
The Hawkeyes performed at a high level in the classroom in Shymansky's first year. Seven student-athletes — Julianne Blomberg, Dietz, Alyssa Klostermann, Erin Leppek, Lovell, Alli O'Deen, and Emily Yanny — were named Academic All-Big Ten.
As a Hawkeye, Shymansky earned a bachelor of arts in communications in 1995 and a master of arts in English education in 1997. From 1991-93, He was a setter and outside hitter on the UI men's volleyball club team. He has a career record of 304-126 in 13 years as a Division I head coach.
Shymansky recently sat down with hawkeyesports.com to reflect on the 2014 season and his long-term goals for the program.
Did your first year coaching at your alma mater meet your expectations, personally and professionally?
"Personally it certainly did. I love being a Hawkeye. It was awesome to be back in Iowa City and coaching at such an exciting time in our department and in the best volleyball conference in the country. The competition in the Big Ten was stiff, but you know every night requires your absolute focus, energy, and effort, so it was great both professionally and personally."
You built a lot of momentum this year. What is the key to sustaining that next year?
"I could see the buy-in taking form and taking hold within our group, and now I see that buy-in happening to people outside the team — recruits, supporters, Hawkeye fans, even opponents. People all around our volleyball world are starting to believe we are going to do it. When you have that kind of feeling and belief welling up inside of your program, it does become contagious. In a lot of ways it becomes unstoppable. There is a type of tidal wave effect that is happening. I know it won't be easy for us to win this year, that's not the point. I know it will be easy to capitalize on the continuation of that momentum."
How do you maintain the individual momentum and continue to motivate your players?
"We have to lead by example as a coaching staff. We have to show them our unwavering motivation. The players believe that and will follow something like that, but for student-athletes to be at this level, they are also required to be intrinsically motivated and that's where our group is. It is easy for me to call on that motivation and challenge that motivation. It's a grind, but I think it is a labor of love for everyone involved."
What did you do on your first day of camp last year, and what you will do on the first day of camp this year?
"Day one of preseason last year was part creating and explaining the vision, part ramping and revving up the energy, and part throwing people out on the court to duke it out and see where the intensity would go. I can imagine that Day 1 will be exactly the same this year. It may play a little different, it may sound a little different, but there is a tried and true formula that we are at the beginning of the race and therefore hope springs eternal. We want to draw and focus on that hope and work to achieve our goals."
The roster looks completely different than it did a year ago. Did you expect such an overhaul?
"I didn't expect huge roster shifts, but I knew we had a lot of seniority in our group. It's inevitable in college athletics. You're going to get a turnover every year, especially when you have a big senior group graduating. They really did a good job starting our transformation process. We knew we were going to get that big turnover and a couple other good things that are happening for our program. The thing I love most about our ability to recruit right now, especially transfers, is that everyone wants to play in the Big Ten, period. People are looking for that place where they can have that experience, but also win, be challenged, and believe in building something. It is an exciting time to be a Hawkeye. It is not surprising to me that people on the outside looking in are starting to buy into what we are doing."
What was your message to the returning players heading into the offseason?
"Last spring, as we all kind of came together to figure each other out, I was tough on the group. I wanted to see who would go the distance, I wanted to see who would bend but not break. I wanted to see who would grow and mature. So the people who survived and thrived from that are the ones that are still here. Those are the ones who have been tested and I am counting on them. My message to them has been: now we are in this, now you understand what this is, now I understand what you can do and who you are, and now we are in it together. It is time to find a way to succeed. I think the relational shift between our coaching staff and our players has been healthy."
What do you know about this program that you didn't know 18 months ago?
"When I first got here I didn't know the program was going to be this well supported. I hoped it was and I believed (director of athletics) Gary (Barta), but I just didn't know what it would feel like. Now, being here for this long, we have received such tremendous support. To know that so many people are pulling on our end of the rope, both inside the department and the community, is a great feeling. I didn't know about our game operations, game day management, and the environment that they can create here in Carver. Now that I have done it a little bit, I think we are a sleeping giant that is awakening, and as our success builds from a wins and losses standpoint, we are going to see a following a lot like women's basketball, wrestling, men's basketball, and football. That is very exciting for me as a coach."
What are your goals for the upcoming season?
"We certainly know we are going to be more competitive, but being competitive doesn't guarantee us victories. I think we are going to be on the hunt this season. I can see our team as a very strong bubble team for an NCAA Tournament berth. That is an exciting place to be, a little tenuous, but exciting. Long term, the goal is winning. I wouldn't delude myself to think it is anything other than that. Everywhere I have been, that has been the goal and I have been able to accomplish that goal. Now I am here and I am going to do that again. There are so many great benefits to being a winner. The most obvious is that winners make great choices on a daily basis and they are great members of society. Winners are going to win in the classroom and I am very proud of our 100-percent graduation rate. Our women leave here as great role models with great worth ethics. They graduate as quality character people and great volleyball players. We have big goals when you think about it that way. I am committed as a Hawkeye to make this program awesome."