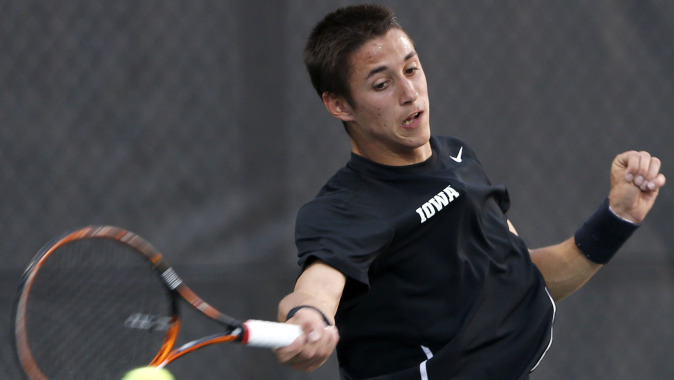 June 22, 2015
BURGAS, Bulgaria — University of Iowa men's tennis player Lefteris Theodorou has found recent success following his debut season for the Hawkeyes. Theodorou recently competed well in the doubles portion at the ITF Pro Circuit Tournament, making it to the finals with his partner Gabriel Donev of Bulgaria.
Theodorou and Donev tallied three victories before falling in the championship match. The duo defeated Ukrainian teammates Gleb Alekseenko and Yurii Dzhavakian in a Round of 16 match, 6-2, 6-3. They kept the momentum going with a quarterfinals triumph over Tadas Babelis (Lithuania) and Anton Pavlov (Estonia), 6-3, 6-4.
In the semifinals, Theodorou and Donev defeated the No. 2 seed Jonathan Kanar (France) and Vasko Mladenov (Bulgaria), 6-3, 6-4. The three straight victories set up a match in the finals against No. 1 seeded Tihomir Grozadonv and Aleksandar Lazov of Bulgaria. Grozadonv and Lazov took the first set, 7-5, before Theodorou and Donev came back to even the match with a 6-4 second set win. However, they could not complete the come-back as Grozadonv and Lazov earned a tight three set victory, 10-7.
The native of Athens, Greece, also saw action in the singles competition of the tournament. In the Round of 32 he squared off with Jose-Diego Manrique Velazquez of Spain. Theodorou managed to win the first set, 6-3, before dropping the next two, 6-1, 6-2. During his time in Bulgaria, the Hawkeye sophomore earned eight ATP doubles points.
With one season under his belt at Iowa Theodorou tallied 23 total victories, including 16 singles wins and seven wins in doubles. He will look to further his game and help improve a rising Iowa tennis program next season.