July 2, 2015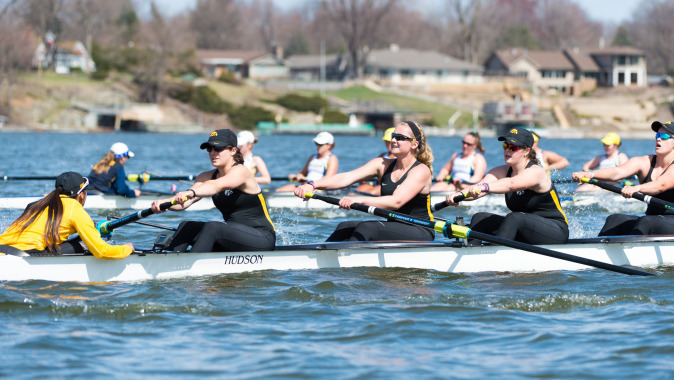 By JIL PRICE
Editor's Note: The following first appeared in the University of Iowa's Hawk Talk Daily, an e-newsletter that offers a daily look at the Iowa Hawkeyes, delivered free each morning to thousands of fans of the Hawkeyes worldwide. To receive daily news from the Iowa Hawkeyes, sign up HERE.
IOWA CITY, Iowa — The University of Iowa rowing program will be visible once again in international competition this summer with sophomore Gemma Kerr and freshman Hannah Bristowe representing Canada at the CanAmMex Regatta in Mexico City from July 6-11.
Athletes vying for one of the coveted positions at the junior level were able to try out for the sculling squad in a single or for the sweeping squad in a pair. After consulting with Iowa head coach Andrew Carter and assistant coach Jeff Garbutt, Kerr and Bristowe made the decision to band together and tryout as a pair.
"It was my first time rowing with Hannah," said Kerr. "It was an interesting first row with each other because Hannah had been sculling the whole year and had to try sweeping in one of the harder sweeping boats to row.
"It was amazing how quickly we clicked. Hannah proved herself as a versatile and flexible rower. I am excited to train and race with her during the summer and at school."
The pair practiced together before beginning trial races, which would determine who would represent Team Canada. The trials took place over a three-day period, where the pair was tested with 2-kilometer and 1-kilometer race pieces together and separately. In each race they competed in together, Kerr and Bristowe came out on top.
After finding success with one another in the trials, the duo has their sights set on making a splash for Team Canada at the CanAmMex Regatta.
"CanAmMex will be a regatta that demands a lot from a person," Kerr said. "It takes place in Mexico City, which has a high altitude, is very hot, and different from everything I am used to. I think the athleticism, concentration, and maturity that this competition will demand of its participants will be a big help for racing with Iowa in the upcoming year.
"It will prepare me for the intensity and stress of training, traveling, and school, as well as keep me fit over the summer."
Despite its challenges, Kerr and Bristowe are eager to put their stamp on the event and continue the success Canada has had at the competition in the past.
"Last year, Team Canada came out on top at this regatta, and I hope, and expect, to do the same this year," Kerr said. "The group we have is full of incredible athletes and people I know I can count on to make us as fast as we can be."
Kerr and Bristowe join fellow Hawkeye rower Morgan Grastorf with their international opportunity. For the second consecutive season, Grastorf received an invitation to attend a U.S. Rowing camp — this year being the U.S. Women's Under 23 National Team Selection Camp. The sophomore, who joined the program with no rowing experience as a freshman, has excelled on the water ever since. She is a two-time first team All-Central Region selection and was named a Pocock Second-Team All-American in 2014.
Opportunities to compete in these international events will only have a positive impact on the present and the future of Hawkeye rowing.
"It is very positive," Carter said. "It says that the training and the direction these women are following at the University of Iowa is positioning them well to be involved in these programs. That is a positive statement about what we're doing here, and it should pay dividends for our own competitiveness as a university program.
"It changes the standards we have for ourselves in our program. It says to the other women on the squad that these things are possible and the tools are there for others to set their sights on these opportunities. It's only going to float our boat higher."