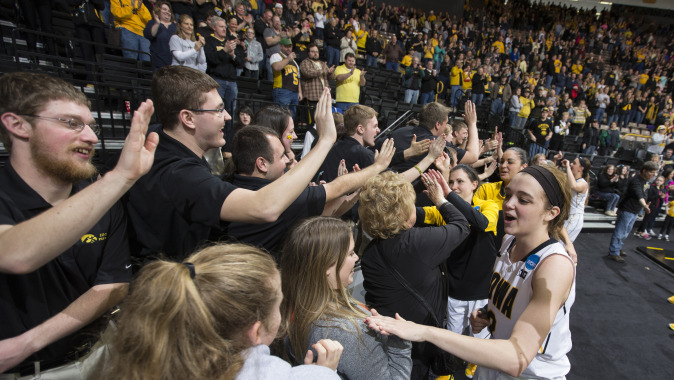 July 6, 2015
IOWA CITY, Iowa — The University of Iowa women's basketball program ranked 14th nationally in average attendance, welcoming a total of 95,417 fans to Carver-Hawkeye Arena in 2014-15. An average of 5,301 fans per game witnessed the Hawkeyes' accomplish a program record 18-0 season and secure their first Sweet Sixteen trip since 1996 on Mediacom Court.
Attendance for the 2014-15 NCAA women's basketball season reached more than 11 million fans for the eighth consecutive season, with Division I attendance totaling 8,111,856 — the fourth highest total in 34 years of women's basketball. The Division I Women's Basketball Championship drew 239,746 spectators for an average of 5,708 fans per session over 42 sessions (first and second rounds, regionals, and Final Four). The NCAA Tournament average rose more than 2,400 fans per session from 2013-14.In 2014, Iowa ranked 22nd nationally in attendance, drawing a total of 79,108 fans and an average of 4,395 per game. The Hawkeyes increased attendance in 2015 by 906 fans per contest, which is the seventh-largest home attendance increase from 2014 to 2015.
As a conference the Big Ten ranked second nationally, drawing a conference record 948,935 fans with an average of 4,108 per game.
To view full the full attendance report, visit http://on.ncaa.com/1dHIKtS. Iowa's 2015-16 schedule will be released later this summer.