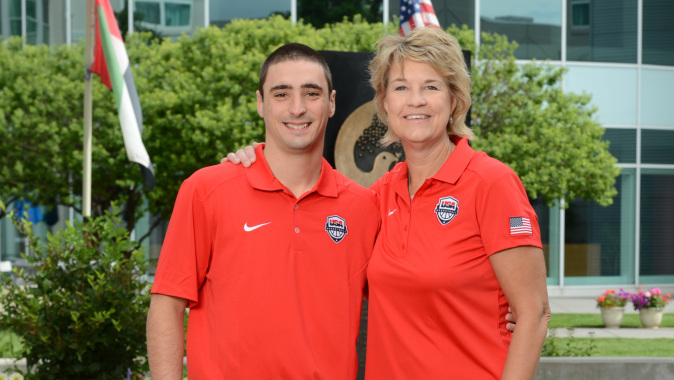 July 8, 2015

Photo Gallery
By JIL PRICE
IOWA CITY, Iowa — University of Iowa head women's basketball coach Lisa Bluder, who guided the Hawkeyes to their first Sweet Sixteen berth since 1996 and perfection at home with an 18-0 record on Mediacom Court in Carver-Hawkeye Arena this season, is taking on an international challenge this summer.
Bluder was named head coach of the U.S. Pan American Women's Basketball Team in March, becoming the second to earn the honor in Iowa women's basketball history as C. Vivian Stringer led the U.S. to a bronze medal finish in 1991. The opportunity has been an exciting one for Bluder.
"Competing at the highest level with some of the best players in the nation is the best part of this experience," Bluder said. "It's also been fun to work with and learn from two great coaches.
"Just to represent the U.S. is special. I am so proud to have Iowa on our jersey, but it's neat to have U.S.A. on our jersey as well. There is no bigger compliment than to represent the United States."
Sharing the Pan American Games experience with Bluder is five-year Hawkeye women's basketball team manager Sean Sullivan. He is applying his talents as a manager for team USA.
"He's doing a great job, and it's fun sharing this experience with Sean," Bluder added. "It gives me a greater comfort level just knowing he's there. We've been together for the last five years in these competitive situations."
Bluder and U.S. assistant coaches Michelle Clark-Heard of Western Kentucky and Scott Rueck of Oregon State have been working with their 12-member roster since July 3 at the Olympic Training Center in Colorado Springs, Colorado. The team — comprised of freshmen, sophomore, and junior college student-athletes — will travel to Toronto, Canada, on July 8 to continue training, take part in the Opening Ceremony on July 10, and compete for gold from July 16-20 inside Ryerson Athletic Centre.
"It's going well," Bluder said about the team's training. "It's interesting when you have 12 all-stars. Getting them to come together as a team and gelling quickly are keys to our success.
"In addition to a lot of practices, we've been doing team activities. We went and bought fireworks together, and we took the Pikes Peak Cog Railway to the top. Doing things like that off the floor are good because you get to know people better."
The U.S. will compete in Group A, challenging Brazil (July 16), Dominican Republic (July 17), and Puerto Rico (July 18) in the preliminary round. The semifinals are set for July 19, followed by bronze and gold medal games on July 20.
After winning gold at the 2007 Pan American Games, the U.S. dropped to seventh place in 2011. Bluder is ready to bring the glory back to the U.S. with a strong performance in 2015 and has the experience to do it. In 2001, Bluder helped guide the U.S. to a gold medal as an assistant coach at the World University Games.
Her previous experience on the international stage combined with her successful 15-year tenure as head coach of the Hawkeyes, which includes eight consecutive trips to the NCAA Tournament, has prepared her well for this opportunity.
"I'm glad I had the experience from the World University Games because it is something I can draw from," Bluder said. "I know the style we're going to see, the physical nature of the game, and the intensity of it all.
"Certainly with Iowa going to the Sweet Sixteen this year, preparing for those games, and experiencing that intensity is going to be very similar," Bluder added. "But playing five games in five days is less about what the opponent does and more about what you do. You don't have time to go through a scouting report with your team."
Winning it all is a tall task for the U.S., who will face teams comprised of professional players, often Olympians, that to train together year round. However, with the top collegiate players in the country including talent like Breanna Stewart of UConn, who has had seven international competition opportunities in her young career, Bluder believes good things can happen.
"It's tough for the U.S. at the Pan American Games because we are playing against everyone else's Olympic teams with our college players," Bluder said. "Our Olympic team is playing in the WNBA, so they aren't available.
"We're at a competitive disadvantage because of that, but at the same time the U.S. has won the last six Olympic gold medals. We know we're one of the best in the world at basketball, we're just going against a different class of athlete."
Bluder sees this opportunity on the international stage as a positive for her Hawkeye program. It's something that can have an impact on the team, student-athletes, and her as a coach.
"I hope it helps the University of Iowa," Bluder said. "Having this exposure and having players understand that if they come to Iowa they can be drafted in the first round and they can compete in these situations for USA Basketball.
"Ally Disterhoft was invited to try out for this, but unfortunately with her surgery she couldn't do that. I hope it helps with recruiting, and I also hope it makes me a better coach too."
Fans can watch the U.S. and Bluder make their run for gold and take part in the opening ceremony live on ESPN and ESPN3 (schedule listed below).
To keep up with the team's activities, follow @usabasketball, @lisabluder, and @iowawbb on Twitter, follow @usabasketball, @lisabluder, and @iowawbb on Instagram, and like USA Basketball and Iowa Women's Basketball on Facebook.
2015 U.S. Pan American Women's Basketball Team Schedule
Opening Ceremony
Friday, July 10 at 6:30 p.m. (CT) — ESPN3
Prelims
Thursday, July 16 at 8 p.m. (CT) — U.S. vs Brazil — ESPN3
Friday, July 17 at 8 p.m. (CT) — U.S. vs Dominican Republic — ESPN3
Saturday, July 18 at 8 p.m. (CT) — U.S. vs Puerto Rico — ESPN3
Semifinals – Sunday, July 19
9:30 a.m. (CT) — 7th vs 8th
12:30 p.m. (CT) — Semifinal
5 p.m. (CT) — 5th vs 6th
8 p.m. (CT) — Semifinal
Medal Games — Monday, July 20
3 p.m. (CT) — Bronze Medal Game
7:45 p.m. (CT) — Gold Medal Game