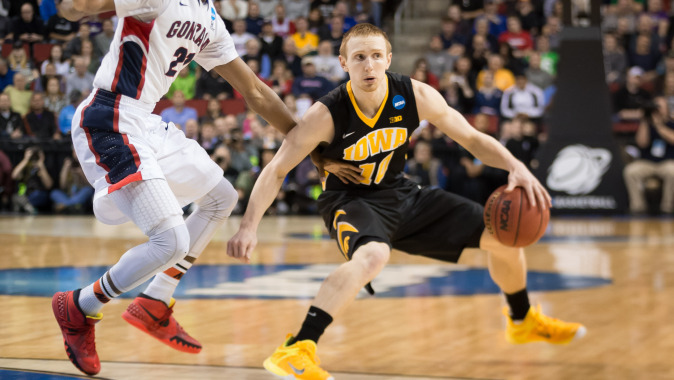 July 8, 2015
Editor's Note: The following first appeared in the University of Iowa's Hawk Talk Daily, an e-newsletter that offers a daily look at the Iowa Hawkeyes, delivered free each morning to thousands of fans of the Hawkeyes worldwide. To receive daily news from the Iowa Hawkeyes, sign up HERE.
BY MATTHEW WEITZEL
IOWA CITY, Iowa — University of Iowa senior Mike Gesell has a number of accomplishments on the court in his first three years with the UI men's basketball program, but his achievements in the classroom have been just as impressive.
Gesell, who will enter his fourth year of athletic eligibility this fall, graduated with honors in May, earning a degree in finance in only three years.
Gesell says he has always been a "math guy" and is following in the family footsteps in the business field.
"My dad was an accounting major, my brother was management and my sister marketing," Gesell said. "Everyone in my family has been in the business field. I look at it like a basketball team; if you're managing a team in your business, you have to be a leader and I feel like what I do on the court transfers over well, which made me want to get into business."
While his teammates are attending summer classes, Gesell is continuing his education with on-the-job training through an internship with Hawkins Wealth Management — a financial advising company in North Liberty.
"This is something I might want to do someday, it interests me," said Gesell. "It's nice to be able to go to work and still learn, and obtain real-life experience."
The South Sioux City, Nebraska, native spends three days a week in an office setting.
"They label me as a client service intern," said Gesell. "I prepare a lot of information for the financial advisors; setting up and coordinating meetings for clients. I sit in on meetings and any other odds-and-ins they may have. I'm trying to learn what the industry is about."
Gesell, who was a 2015 third-team Academic All-American, puts in around 16 hours per week at the internship and then heads to the gym.
"I want to do this part time to get the experience and then at the same time spend time in the gym to mesh with these freshmen," said Gesell.
Gesell is one of only three Hawkeyes to amass 800 points, 350 assists, 200 rebounds, and 100 steals prior to his senior season. Last season, he averaged 7.4 points and recorded a single-season best 135 assists in helping lead Iowa to a third place Big Ten finish and a victory in the NCAA Tournament.
So what is Gesell working on in the gym to prepare for his final season as a Hawkeye?
"I'm concentrating on trying to finish better at the rim," Gesell said. "I feel like I'm a quick, crafty point guard and I can get to the rim, but you can get to the rim all you want… you have to finish. I'm also working on my jump shot and ball handling because those are things you can always improve on."
When the fall semester begins in August, Gesell plans on taking classes in the sports management master's program. The two-time Academic All-Big Ten honoree says the UI has prepared him well for a life after basketball in the business field.
"I had some very tough classes and worked closely with a lot of professors," said Gesell. "They gave me tips and were willing to work with me. They have prepared me well."