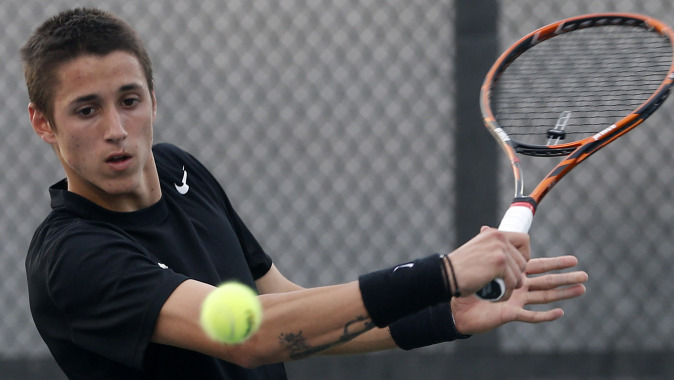 July 14, 2015
Editor's Note: The following first appeared in the University of Iowa's Hawk Talk Daily, an e-newsletter that offers a daily look at the Iowa Hawkeyes, delivered free each morning to thousands of fans of the Hawkeyes worldwide. To receive daily news from the Iowa Hawkeyes, sign up HERE.
BY EXODUS CARDOZA
IOWA CITY, Iowa — University of Iowa sophomore Lefteris Theodorou has been on a run of success following his debut season for the UI men's tennis program. In June, Theodorou and doubles partner Gabriel Donev of Bulgaria tallied three victories to reach the championship match at the ITF Pro Circuit Tournament in Burgas, Bulgaria.
Shortly after his strong display in Burgas, Theodorou kept his stellar summer performances going at the Bulgaria F3 Futures in Blagoevgrad. He reached the finals of the doubles competition and advanced to the Round of 16 in singles.
His success in those two tournaments garnered the Athens, Greece, native 20 ATP doubles points and one singles point.
Theodorou's next chance to prove himself on the world stage begins Wednesday at the 2015 Davis Cup. The competition, run by the International Tennis Federation, is the premier international men's team tennis event contested annually for over a century between teams from multiple countries in a knock-out format.
Theodorou will be competing for his home country of Greece in the Europe World Group 3 — a group consisting of 13 teams. The teams will be grouped in three pools of three teams and one pool of four. The winners of each pool advance and are drawn to a playoff for a place in Europe/Africa Zone Group II in 2016. From that group, two teams will be promoted to the World Group "Main Draw."
"I'm excited that I get to represent my country in the Davis Cup," said Theodorou. "I've played for the national team before, but that was in junior tennis. It's cool that I get to play as a member of the men's national team this time."
Heading into competition at the Davis Cup, Theodorou will play at the No. 1 singles position for Greece. This added responsibility fuels him.
"I've started training hard twice a day," said Theodorou. "I've been attempting to get myself in the best shape possible that I can for the Davis Cup, taking 10 days off after my tournaments in Bulgaria in the process. I've also been practicing a lot with the Federation coach."
Among Theodorou's teammates will be loannis Sergiou, Christos Antonopoulos, and team captain/coach George Kalovelonis. Theodorou will be one of the youngest players to compete on a Davis Cup roster and to play at the No. 1 position for his country.
"This is a big deal," said UI head coach Ross Wilson. "It is a dream of every tennis player to wear their countries colors and compete."
Greece's tie will be located in San Marino at the Centro Tennis Cassa di Risparmio (Outdoor Clay Court), where they will play two singles matches and one doubles match against their opponent (TBD). Theodorou will look to keep his stellar performances going as he heads to the biggest stage of his young career.
"My goal in this competition is to give Greece the opportunity to ascend to a higher division," said Theodorou.
No matter the outcome, Theodorou has made big strides in his game this summer and will look to draw upon his experiences this season for the Hawkeyes.